Sanders-Leist-Black House
1720 Florence Avenue
New Albany, IN 47150

Sheriff Sale

Built c.1922. Gable-front/Craftsman. The Sanders-Leist-Black House. Florence Place, as it was originally known, was named for Florence Jolissaint-Bizzell, niece of Mayme and Harry Thevenot who lived at 1726 DePauw Place. The developer of this area, Mrs. Charles DePauw, told the Thevenots that if they would buy an additional lot, which they did, she would name a street in this section for their little niece, Florence. This house was built around 1922 and the first listing for this address was in the 1923 New Albany City Directory.

The first resident of this home was the famous Col. Harland D. Sanders, founder of Kentucky Fried Chicken. He lived here only a short period of time when he was employed as a traveling salesman. This was at least 15 years before he came up with his secret recipe of eleven herbs and spices for his "finger lickin' good" fried chicken.

Bennett Leist and his wife Irma were the first long-term residents of the house, living here for about five years from early February 1930 through late November 1934. Mr. Leist's occupation was listed as an auto mechanic.
By the time the 1941 New Albany City Directory was published, Carl and Marguerite Black were making their home here. Mr. Black was a conductor for the Louisville Railway Co. Carl died in October of 1958 and Marguerite remained in the house until her death in May of 1991.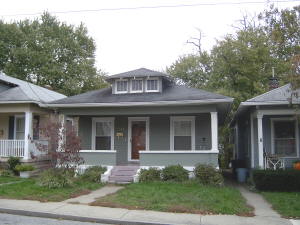 Contact:
To be sold at Sheriff's Sale Thursday, 16 November 2006 at 10:00 AM in the Office of the Sheriff of Floyd County (first floor of the City-County Building, 311 Hauss Square, New Albany). NO THIRD PARTY BUYER AT SHERIFF'S SALE - MAY BE MARKETED BY A REAL ESTATE COMPANY IN UPCOMING WEEKS.