The Russell
1906 East Spring Street
New Albany, IN 47150

Sheriff Sale

This house was built in 1889 a few blocks to the west and moved to the present location in 1902. The first residents of the home were Thomas and Sarah Jane Barnett. They initially rented the house before purchasing it a few years later. Thomas was a native of England and came to New Albany in 1880. He was an employee of Washington C. DePauw's American Plate Glass Works, located in New Albany, the largest plate glass manufacturing company in the country. Mr. Barnett died in the house in June of 1930 at the age of 81 years. Sarah moved to Clarksburg, West Virginia to live with her daughter Mrs. John Britton. She died there in April of 1942 and was brought back to New Albany where her funeral service was held in the home of her son Henry at 1843 East Market Street.
Another daughter of the Barnetts, Lida Russell, and her husband W. Shirley, moved into the house by the mid 1930s and remained here for a number of years. During this period of time, the house was turned into The Russell Apartments, with a family member always living here. Mr. Russell died in August of 1955 at the age of 62 years. Mrs. Russell died in the home in June of 1983.

The Russells' daughter, Mary Jane Morgan came to live in the house in the early 1980s and remained until her death in October 1996. She had been an employee of Melhiser Endris & Tucker, certified public accountants in New Albany.

Mary Jane's daughter, Sarah Crane, was the last of the family members to reside in the home. Over 100 years of ownership by the Barnett-Russell-Morgan-Crane family, came to an end when Sarah sold the property in late 2005.
The property's judgment number is 22C01-0609-MF-601. With this number you can visit the Clerk's Office in the City-County Building and enter it into their computers to find the judgment owed on the property. This is public record.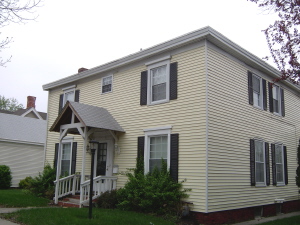 Contact:
To be sold at Sheriff's Sale Thursday, 10 May 2007 at 10:00 AM in the Office of the Sheriff of Floyd County (first floor of the City-County Building, 311 Hauss Square, New Albany). Judgment number: 22C01-0609-MF-601 NO THIRD PARTY BUYER AT SHERIFF'S SALE - MAY BE MARKETED BY A REAL ESTATE COMPANY IN UPCOMING WEEKS.