Herbert C. Creek House
2212 Ekin Avenue
New Albany, IN 47150

Sheriff Sale

Built ca.1900. Shotgun. The Herbert C. Creek House. This house was constructed around 1900 in area of New Albany that was once a separate town, incorporated in 1886 and known as Silver Grove. The boundaries were roughly; Silver Street to the west, Charlestown Road to the north, Beharrell Avenue to the east and Spring Street to the south. The town had its own town hall with town council along with is own police and fire departments. Silver Grove became part of New Albany in 1915.
The home was used as investment property for the first 40 years with numerous occupants living here, until Herbert C. Creek and his wife Carrie purchased the house in June of 1942.

Herbert's occupation was listed as a radio repairman. Their daughter Janet, a nurse, was also listed as residing here. Mr. Creek died in April of 1977. Janet and her husband, Robert C. Hess, were then listed as residents of the home. Mr. Hess died in the early 2000s and Mrs. Hess remained in the home until about 2003, ending over 60 years of ownership by the Creek-Hess family.
The property's judgment number is 22D014-0612-MF-482. With this number you can visit the Clerk's Office in the City-County building and enter it into their computers to find the judgment owed on the property. This is public record.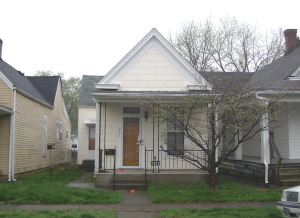 Contact:
To be sold at Sheriff's Sale Thursday, 10 May 2007 at 10:00 AM in the Office of the Sheriff of Floyd County (first floor of the City-County Building, 311 Hauss Square, New Albany). Judgment number: 22D014-0612-MF-482 NO THIRD PARTY BUYER AT SHERIFF'S SALE - MAY BE MARKETED BY A REAL ESTATE COMPANY IN UPCOMING WEEKS.