Marion Lyvers House
508 East Oak Street
New Albany, IN 47150

Sheriff Sale

Built 1913. Cross-plan. The Marion Lyvers House. The construction of this house had been completed in 1913 and it was listed as vacant that year in the New Albany City Directory. By the time the 1915 New Albany City Directory was published, Marion and Bessie Lyvers were residing here, although they did not purchase the home until February of 1918 - for $2,700.00. Mr. Lyvers' occupation was listed as a clerk for the Railway Mail Service. The Lyvers remained in the home until the mid 1930s.
The house saw many different occupants from the mid-1930s until the late 1950s when Mr. and Mrs. Robert Sand, Jr. were listed as living here. Robert was office manager for the New Albany company of E. T. Slider, Inc. The Sands remained in the home through the mid-1960s. After the Sand family moved from the residence, the house again saw many different occupants.
The property's judgment number is 22D01-0610-MF-418. With this number you can visit the Clerk's Office in the City-County building and enter it into their computers to find the judgment owed on the property. This is public record.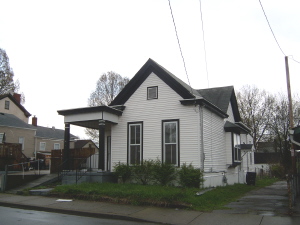 Contact:
To be sold at Sheriff's Sale Thursday, 10 May 2007 at 10:00 AM in the Office of the Sheriff of Floyd County (first floor of the City-County Building, 311 Hauss Square, New Albany). Judgment number: 22D01-0610-MF-418 NO THIRD PARTY BUYER AT SHERIFF'S SALE - MAY BE MARKETED BY A REAL ESTATE COMPANY IN UPCOMING WEEKS.