Robertson-Dienes House
518 East Fourth Street
New Albany, IN 47150

Sheriff Sale

Built 1874. Gabled-ell. The Robertson-Dienes House. Reuben Robertson purchased this lot from Samuel H. Owens on May 7th of 1873 for $750.00 and had this house built. Mr. Robertson was a township trustee and had his office in the courthouse in downtown New Albany.

In October of 1896, the home was sold to dentist George A. Foster. Dr. Foster's company was known as G. A. Foster & Co. and was located in the Merchant's National Bank building, at the northeast corner of Pearl and Main Streets in downtown New Albany.

John H. Shine, owner of John H. Shine Flour Co. lived here for almost ten years, purchasing the property in July of 1901. The Shine family was followed by the Edward E. Zenor family. Mr. Zenor was secretary of Rowe-Fawcett Wholesale Grocery Co. By the mid teens, Margaret A. Huckleberry, widow of John, was making her home here and remained through the mid-1920s.

John Dienes, a pattern filer, and his wife Fredericka were the next residents of the house. John died in January of 1932 and Mrs. Dienes remained in the house until her death in July of 1949. By the mid 1940s, Rose Dienes had come to live in the house with her mother Fredericka. Miss Dienes was a seamstress at the downtown New Albany department store known as The Fair Store. Rose lived in the house through the late 1970s. She died in April of 1982.
The property's judgment number is 22D01-0607-MF-00256. With this number you can visit the Clerk's Office in the City-County building and enter it into their computers to find the judgment owed on the property. This is public record.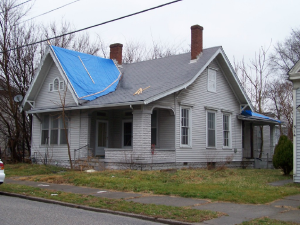 Contact:
To be sold at Sheriff's Sale Thursday, 5 July 2007 at 10:00 AM in the Office of the Sheriff of Floyd County (first floor of the City-County Building, 311 Hauss Square, New Albany). Judgment number: 22D01-0607-MF-00256 NO THIRD PARTY BUYER AT SHERIFF'S SALE - MAY BE MARKETED BY A REAL ESTATE COMPANY IN UPCOMING WEEKS.