Stafford-Epperson House
1322 East Oak Street
New Albany, IN 47150

Sheriff Sale

Built ca 1875. Shotgun. The Stafford-Epperson House. This shotgun house, along with its neighbor at 1324 East Oak Street, were probably built about 1875 for Joseph Stirr. The Stirr family lived at 1324 and likely rented out 1322. The Stirrs sold 1322 East Oak in March 1910 to Edmund K. Scott for $1,400.
The Scotts only owned the home for two years before selling it to H. Charles Beck, a cigar maker for F. W. Lindemann. Austin F. Rowe was the next owner of the house, purchasing it in May 1917. Mr. Rowe was a New Albany fireman.

In September 1922, Charles E. Stafford became the new owner of the property and it remained in the Stafford family for over 25 years. Charles was a laborer for the Southern Railway System.

By May 1952, and for some 35 years after, the house was home to the Fred and Nancy Epperson family. Mr. Epperson was a dispatcher for the Peaslee-Gaulbeck Co.
The property's judgment number is 22C01-0501-MF-55. With this number you can visit the Clerk's Office in the City-County building and enter it into their computers to find the judgment owed on the property. This is public record.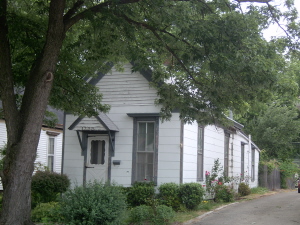 Contact:
To be sold at Sheriff's Sale Thursday, 5 July 2007 at 10:00 AM in the Office of the Sheriff of Floyd County (first floor of the City-County Building, 311 Hauss Square, New Albany). Judgment number: 22C01-0501-MF-55