Baylor-Neely House
308 East Ninth Street
New Albany, IN 47150

Sheriff Sale

Built 1907. Queen Anne. The Baylor-Neely House. This house, along with its neighbor at 306 East Ninth Street, was constructed for John M. and Fannie T. Baylor for investment purposes. John was a prominent citizen of New Albany and had been treasurer of Floyd County for four years. He was on the Board of Directors for the New Albany Trust Company and a large stockholder in that institution. Mr. Baylor was also an extensive land owner.
John died in July 1913 and his wife continued ownership of this property until June 1944. The structure saw numerous occupants during the first thirty-seven years of its existence. Some of the tenants included: Clifford R. Browne, superintendent of New Albany Steam Laundry, located in downtown New Albany and Morris D. Sittason, salesman for Boone-Miller Motors, located at East 3rd and Market Streets in downtown New Albany.

The first owner-occupants of the house were Eskel and Wilda Neely, who resided here for only two years. Mr. Neely was a draftsman by trade. Following the Neelys' ownership, the property again was used by several different investors as a rental over the next sixty-plus years. The photo below shows the house as it appeared in 1974, before artificial siding was added to the exterior.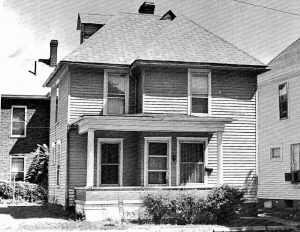 The Baylor-Neely House is located in the locally regulated East Spring Street Historic District. Any exterior alterations must be reviewed and approved by the New Albany Historic Preservation Commission. For more information about the NAHPC and a copy of the City of New Albany Design Guidelines for the local historic districts, see www.newalbanypreservation.com.
The property's judgment number is 22C01-0806-MF-410. With this number you can visit the Clerk's Office in the City-County building and enter it into their computers to find the judgment owed on the property. This is public record.


Contact:
To be sold at Sheriff's Sale Thursday, 30 July 2009 at 10:00 AM in the Office of the Sheriff of Floyd County (first floor of the City-County Building, 311 Hauss Square, New Albany). Judgment number: 22C01-0806-MF-410.