Built c.1880. Queen Anne.
Aamond
C.
Pierle
House. Located in New Albany's Uptown neighborhood, this spacious Queen Anne offers plenty of opportunities for gracious living, both indoors and out.
Aamond
Pierle
and his wife
Tryphena
had this house built around 1880 and the couple raised their seven children here. Mr.
Pierle
was a dairyman and had his farm on the outskirts of town. Mrs
Pierle
died at the age of 70 in November 1903 and
Aamond
moved to Indianapolis shortly after his wife's death to be near one of his daughters. The house stayed in the
Pierle
family and became rental property until Mr.
Peirle
sold it in September 1919 for $2,500.
Aamond
died soon after, in May 1920, at age ninety.
After a brief ownership by William S.
LaFollette
, Edward and Charlotte
Bettman
became owners of the home. Mr.
Bettman
was a former florist at the Indiana State Reformatory in Clarksville. His brothers; John Henry, William and Fred were all involved in the florist business in New Albany. It appears his sister, Mrs. Charles Graham, was associated with the Graham nursery in Clark County. Edward died in December 1938 at the age of 66, and his widow remained in the house until her death in October 1945.
Two years after the death of Mrs.
Bettman
, her daughter and son-in-law, Eva and William P. Van
Cader
, purchased the property for $7,600. The house remained in the Van
Cader
family for the next twenty-seven years. Mr.
VanCader
was an operating engineer and died at the young age of 56 in July 1967. Eva remained in the home until she sold the property in October 1974, ending more than five decades of occupancy by the
Bettman-Van
Cader
families.
The
Aamond
Pierle
House includes more than 2500 square feet, with four bedrooms and two bathrooms. The exterior of the house is clad in aluminum siding, which was freshly painted in May 2009. The home features the complex
roofline
typical of the Queen Anne style, punctuated by tall brick chimneys. The full width front porch is supported by fluted Ionic columns on decorative concrete block bases. The original one-over-one wooden windows remain throughout the house.
A modern front door topped by a transom opens into a large entry hall illuminated by a vintage light fixture. Original woodwork and doors, most with a painted finish, remain throughout the house. A large (30' x 15.5') double parlor with wide pine floors was likely originally one large room, but was later separated by French doors.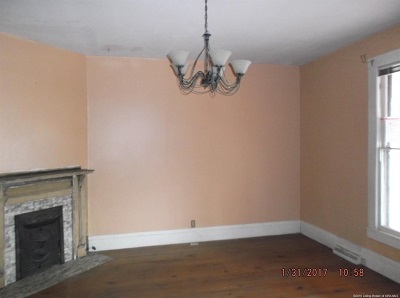 The front room features a corner fireplace with a simple wood mantelpiece and a tile surround. The dining room, on the opposite side of the hall, also has wide pine floors and includes built-in cabinets and a brick fireplace with a wood-burning stove insert. A side entry porch off the dining room has been enclosed to create a cozy sunroom.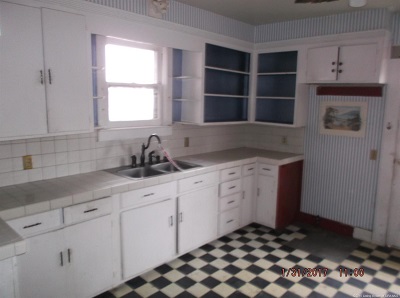 The roomy, updated kitchen at the rear of the house was reportedly originally a solarium, and retains original tile under the linoleum. The first floor also includes a master suite with a large, carpeted bedroom, attached bathroom, and walk-in closet/laundry area.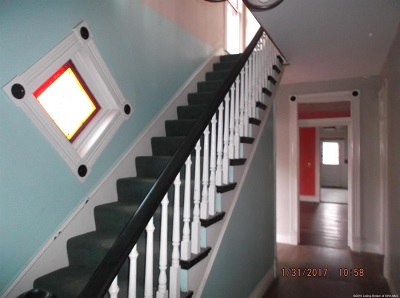 A staircase with turned spindles and a turned newel post leads upstairs from the entry hall, and is lit by a diamond-shaped stained glass window. On the second floor, a wide central hallway includes space at the front of the house large enough for a computer or reading area. Three bedrooms are located on this level, including another large master suite, at the rear of the house.
The carpeted bedroom in the suite is lit by a period chandelier, while the large attached bathroom has a
clawfoot
tub and shower. A linen closet has been built into the original location of the back stairs, and two other closets are included. The other two bedrooms are also good-sized and have had closets added.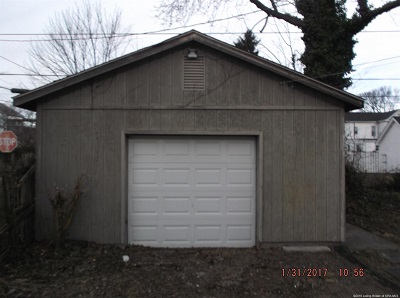 The back yard, which is enclosed by a privacy fence, includes a hot tub and a
koi
pond among its amenities. Both a ground-level deck and a deck off the second-floor master bedroom overlook the back yard. A single-car detached garage is accessible from the alley. The home sits on a partial, unfinished basement.
This is a HUD owned home, being SOLD AS IS. HUD case # 156-030527, Listed FHA IE (Insured with repair escrow) This home qualifies for just a $100 down payment if FHA financing is used. Qualifies for FHA
203K
financing. It is illegal to discriminate against any person because of race, color, religion, sex, handicap, familial status or national origin.