Carpenter-Larkins-Dean House
519 West Market Street
New Albany, IN 47150

Sheriff Sale

Built c.1870. Shotgun. The Carpenter-Larkins-Dean House. This home has seen numerous occupants over the past 100 years and is very probable that it was used as rental property as early as 1905. Charles C. Carpenter, a freight handler, was listed in the New Albany City Directories as residing here from 1905 through 1910. Edward J. Larkins, a bookkeeper for the United Gas & Electric Co., occupied the house for the next 5 years. Emmett C. Dean, a clerk, lived here from 1921 through 1932.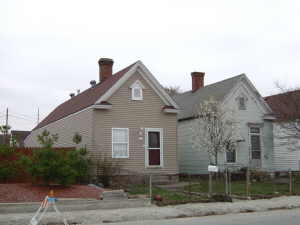 Contact:
To be sold at sheriff's sale Thursday 6 April 2006 at 10:00 AM at the Office of the Floyd County Sheriff. NO THIRD PARTY BUYER AT SHERIFF'S SALE - MAY BE MARKETED BY A REAL ESTATE COMPANY IN UPCOMING WEEKS.