Vernia-Grossman House
1516 Culbertson Avenue
New Albany, IN 47150

Sheriff Sale

Shotgun. Built ca. 1880.
Vernia-Grossman House
. Culbertson Avenue was originally known as Sycamore Street, but the name was later changed to honor the memory of one of New Albany's most wealthy citizens and top philanthropist, William S. Culbertson. Prior to Culbertson's death in 1892, he provided funding for an orphanage and a widow's home in New Albany. At the time of his death, Culbertson was considered the wealthiest man in the state of Indiana. It was after this time that the name of the street was changed.
This house, and the structure to the west, were built for Peter Vernia around 1880 for investment purposes. The first residents of the home are unknown, but by 1903, John E. Feiock was residing here. At that time, Feiock was a bartender for James C. McManus Saloon on Vincennes Street.
In December 1918, Hugh and Carrie (Vernia) Grossman purchased the house from the Vernia-family heirs. Grossman was an electrician for the Indiana Public Service Co. Carrie died in May 1937 and Hugh remained in the home, along with his second wife Alice, until the mid-1950s. The photo below shows the home when it was on the market in 1971.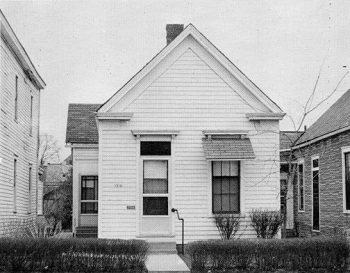 The property's judgment number is 22CO1-1609-MF-001417
. With this number you can visit the Clerk's Office in the City-County building and enter it into their computers to find the judgment owed on the property. This is public record.
Contact:
To be sold at Sheriff's Sale Thursday, 18 October 2018 at 10:00 AM on the third floor of the City-County Building (311 Hauss Square, New Albany). Judgment number: 22CO1-1609-MF-001417.