Christian-Wright House
1723 Beechwood Avenue
New Albany, IN 47150

Sheriff Sale

It appears that this house was constructed around 1927 by carpenter Edward M. Grantz, and sold to Harry F. Christian in July 1927. Christian used the property for rental purposes over the next fourteen years and several of the tenants were: Julius Christian, Truman Wilson, and Robert and Ethel Bridges. Bridges was a mechanic for the Korte-Smith Motor Co., located at 411 East Spring Street in downtown New Albany.
In April 1941, the house was purchased by Chester and Jessie Wright. Wright was a car salesman for Walters Pontiac on State Street in the downtown. He was later the director of the City Veteran's Affairs Department. The Wrights remained in the home until their deaths, Chester on June 14, 1978 and Jessie only 11 days later on June 25
th
.
The property's judgment number is 22CO1-1803-MF-000364
. With this number you can visit the Clerk's Office in the City-County building and enter it into their computers to find the judgment owed on the property. This is public record.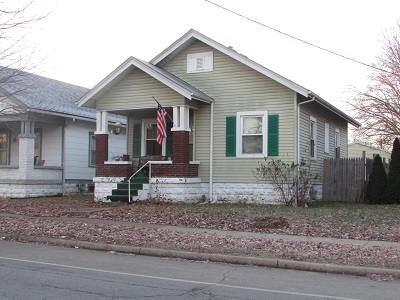 Contact:
To be sold at Sheriff's Sale Thursday, 17 January 2019 at 10:00 AM on the third floor of the City-County Building (311 Hauss Square, New Albany). Judgment number: 22CO1-1803-MF-000364.