August and Elizabeth Ruter House
1824 Ekin Avenue
New Albany, IN 47150

Sheriff Sale

Elizabeth Kraft, fiancée of August Ruter, purchased the lot on which this modest frame cottage was built in January 1892 for $600. By the spring of that year, a building permit had been procured to erect a house on the lot with a value of $865. August Ruter was a foreman and cigar maker for A. Schlosser, located at 211 Pearl Street.
The Ruters, who were married in July 1892, had purchased their building plans from Knoxville, Tennessee architect George F. Barber, who offered a multitude of house plans by mail through a series of pattern books distributed nationally. Barber was especially known for his elaborate Queen Anne–style residences, many of which boasted towers, elaborate porches and a profusion of sawnwork ornamentation. For those of more modest means, he also offered small house designs that still were adorned with patterned shingles and detailed porches.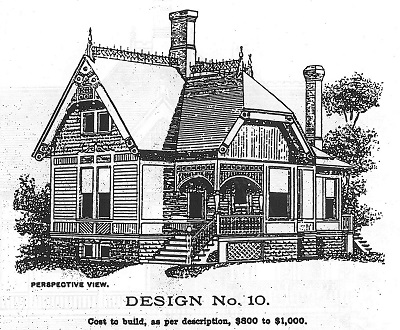 The Ruters chose Design No. 10 from his widely circulated catalog
Cottage Souvenir No. 2
, which contained designs and floor plans for fifty-nine houses. A description of this design in Barber's catalog reads as follows:
This is another example of a one story cottage. The attic is provided with windows for ventilation and light, in case that part is to be utilized for storing purposes. The kitchen is of good size and has a nice, large pantry. A cellar way can be arranged between pantry and closet if desired. The other rooms are conveniently arranged and of ample size for a house of this character…The design is tasty, as all cottages should be. It costs nothing to get good proportions, and a few dollars expended in ornamental work adds to the value of the building many times the extra expense.
Despite the application of vinyl siding, the Ruter House retains the basic form of the original pattern book house with its cross-gabled roof and small entry porch with turned posts and decorative spandrels. Pinwheel fretwork brackets—a modern embellishment—invoke the spirit and intent of Barber's design. Sawnwork shingles and wall panels above and below the front façade's paired windows have been maintained in the application of the synthetic siding to preserve the original design intent of this dignified Queen Anne cottage. The photo below, from 1939, shows the original design of the front porch.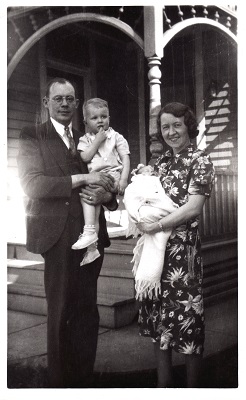 The property's judgment number is 22C01-1911-MF-001710
. With this number you can visit the Clerk's Office in the City-County building and enter it into their computers to find the judgment owed on the property. This is public record.
Contact:
To be sold at Sheriff's Sale Thursday, 18 November 2021 at 10:00 AM on the third floor of the City-County Building (311 Hauss Square, New Albany). Judgment number: 22C01-1911-MF-001710.