Baers Bazaar Building
319-321 Pearl Street
New Albany, IN 47150

Sheriff Sale

This Neoclassical-style building was constructed in 1900 by noted New Albany contractors S. Day & Son for John Baer's dry goods and department store, which was established in 1871. The photo below shows the interior of Baer's.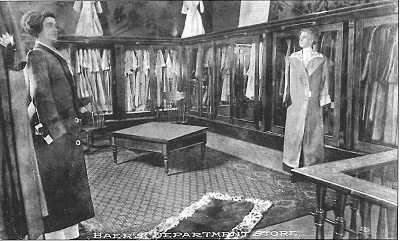 After Baer's business ceased operation in 1931, national retailer W.T. Grant & Company 25 Cent Store occupied this space and was here during the 1937 Ohio River floor, seen below. Grants, as it was known, remodeled and enlarged their store in 1941 and remained here until 1957, when the business's new building at the southeast corner of Pearl and Spring streets was completed.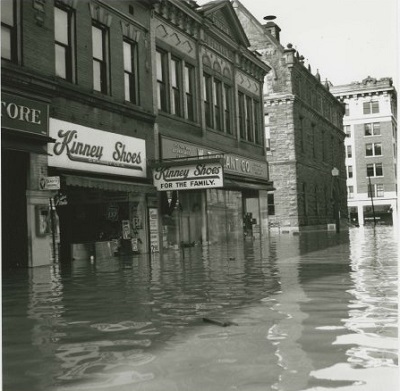 Preservationist and vintner Gary Humphrey embarked on a painstaking restoration of the vacant and deteriorated building in 2007, earning a 'Facelift Award' from the New Albany Historic Preservation for his efforts. By May 2009, the River City Winery opened for business in this location, becoming a popular, downtown destination.
This portion of Pearl Street is listed in the National Register of Historic Places as part of the Downtown Historic District; therefore, the owner of the Baer's Bazaar Building would be eligible to take advantage of tax credits to help recoup qualified rehabilitation costs. For more information, visit
http://www.in.gov/dnr/historic/2814.htm
. The downtown is also a locally designated historic district. Because of this local designation, any exterior alterations must be reviewed and approved by the New Albany Historic Preservation Commission. For more information about the NAHPC and a copy of the City of New Albany Design Guidelines for local historic districts, please visit
www.newalbanypreservation.com
.
The property's judgment number is 22C01-1901-MF-000021
. With this number you can visit the Clerk's Office in the City-County building and enter it into their computers to find the judgment owed on the property. This is public record.
Contact:
To be sold at Sheriff's Sale Thursday, 16 April, 2020 at 10:00 AM on the third floor of the City-County Building (311 Hauss Square, New Albany). Judgment number: 22C01-1901-MF-000021.