Col. Gilbert Budd House
4880 East McCarthy Knob Road
New Albany, IN 47150

$250,000

According to a history of the area published in 1882, Colonel Gilbert Budd was one of the earliest settlers in Floyd County, arriving here from Kentucky prior to Floyd County's establishment in 1819. He was an influential farmer and served as one of the first "overseers of the poor" in the township, and also was instrumental in having an east-west road cut through the wilderness, now known as Budd Road. Colonel Budd, who was reputedly a veteran of the War of 1812, had five wives and lived to age 92. By the time of the publication of the 1882 history, the farm here was occupied by his son-in-law, John B. Hancock, and remained in the hands of Hancock descendants for some years to follow.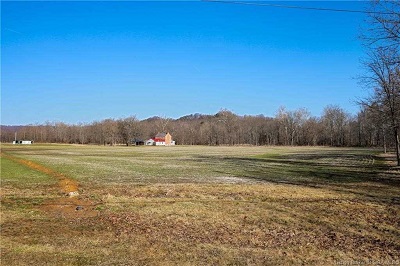 The Budd House offers 1422 square feet of living space, including one bedroom and one full bathroom as currently configured. The historic core of the house is a simple, two-story brick structure set on a stone foundation, with massive brick end chimneys. A 1986 addition at the rear houses the modern living space, while an enclosed porch on the opposite side houses a hot tub overlooking the creek.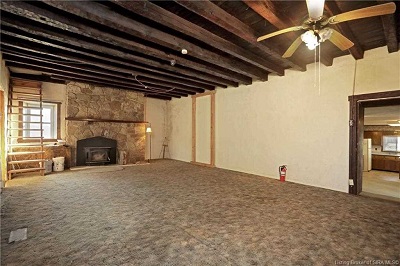 The first floor of the historic house is one large, carpeted room, with exposed beams in the ceiling that may have been salvaged from another building. One end of the room has a large fireplace faced with stone, with a wood-burning insert added.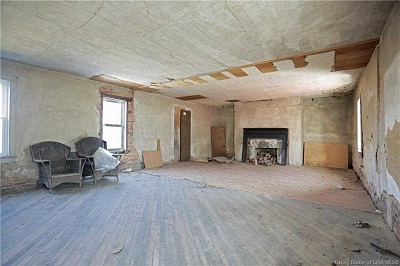 The second-floor space is also one large room, although physical evidence indicates that it was one divided into two. The fireplaces on either end of the room retain matching, simply-detailed Federal-era wooden mantelpieces.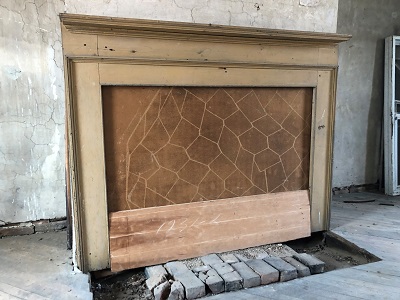 The flooring on this level is hardwood, laid diagonally. The addition includes a carpeted family room that opens into a good-sized kitchen with lots of cabinet and counter space. The carpeted bedroom is also generous-sized, with a pair of closets. The full bathroom includes more storage as well as a built-in vanity. A laundry room is also found on this level.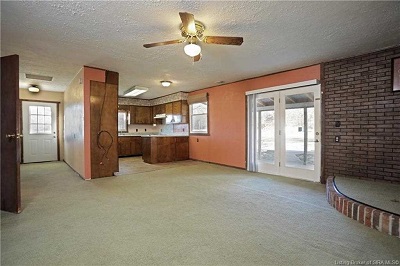 Accessed through an exterior door, the stone-walled basement under the historic house has a concrete floor and includes another fireplace. A three-car detached garage with additional storage space is located adjacent to the house. House is being sold AS-IS but could be a showpiece.
Sale Price:
$250,000.00
Contact:
For more information contact Semonin Realtors' Nancy Stein (502/296-4306, nstein@semonin.com) or Rachel Gish (502/876-3595, rgish@semonin.com)