House types and architectural styles prominent in New Albany, Indiana
---
HOUSE FORMS
Shotgun (1860-1920)
Characterized by:
•One room wide and one or two rooms deep, modest size.
•Lengthwise roof ridge.
•May have added two-story section on rear. Double shotgun is two rooms wide with two windows on house front.
•May exhibit architectural details from any style.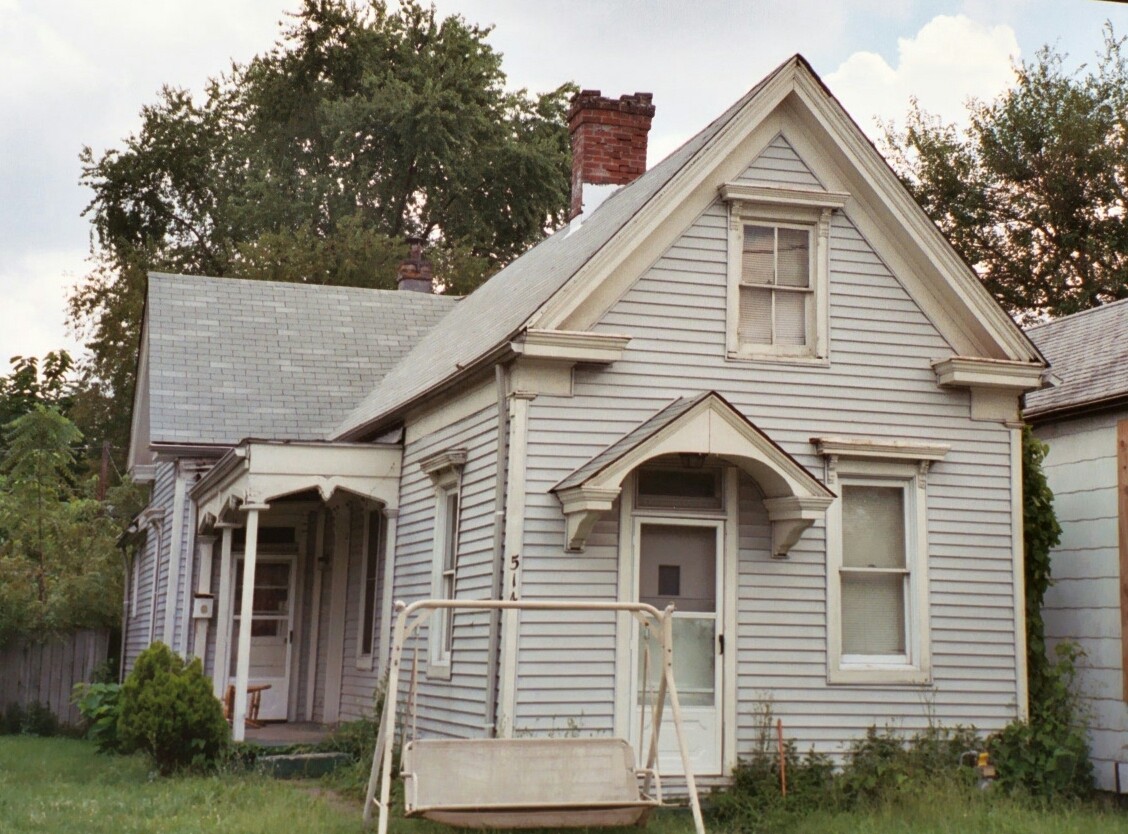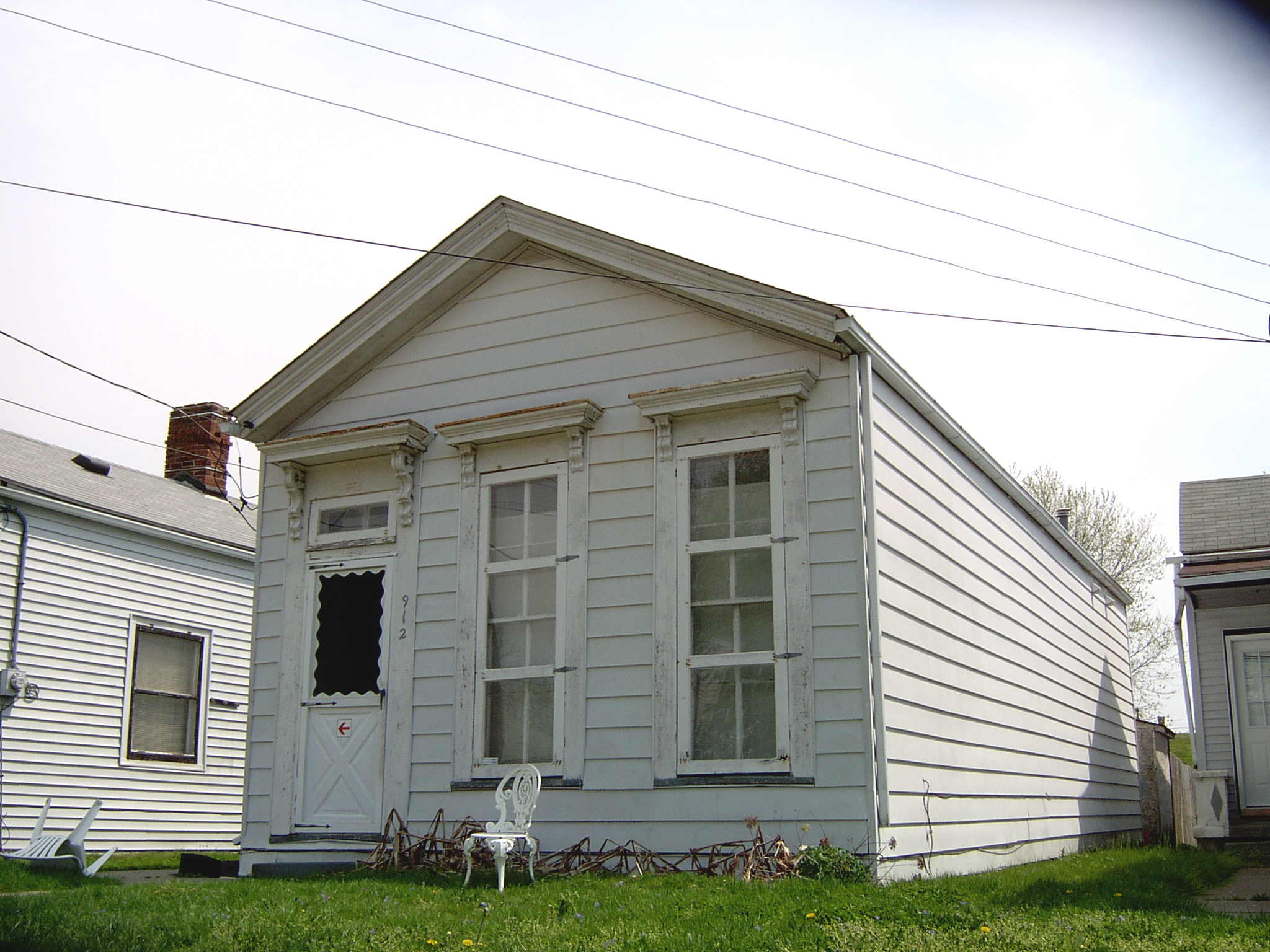 This is a shotgun cottage.
Note: Combining "cottage" with any term used to describe a house type or style generally indicates that the building is a smaller version of the type or style, such as Queen Anne cottage, Italianate cottage, etc. "Cottage" itself is not a house style or a house type.
---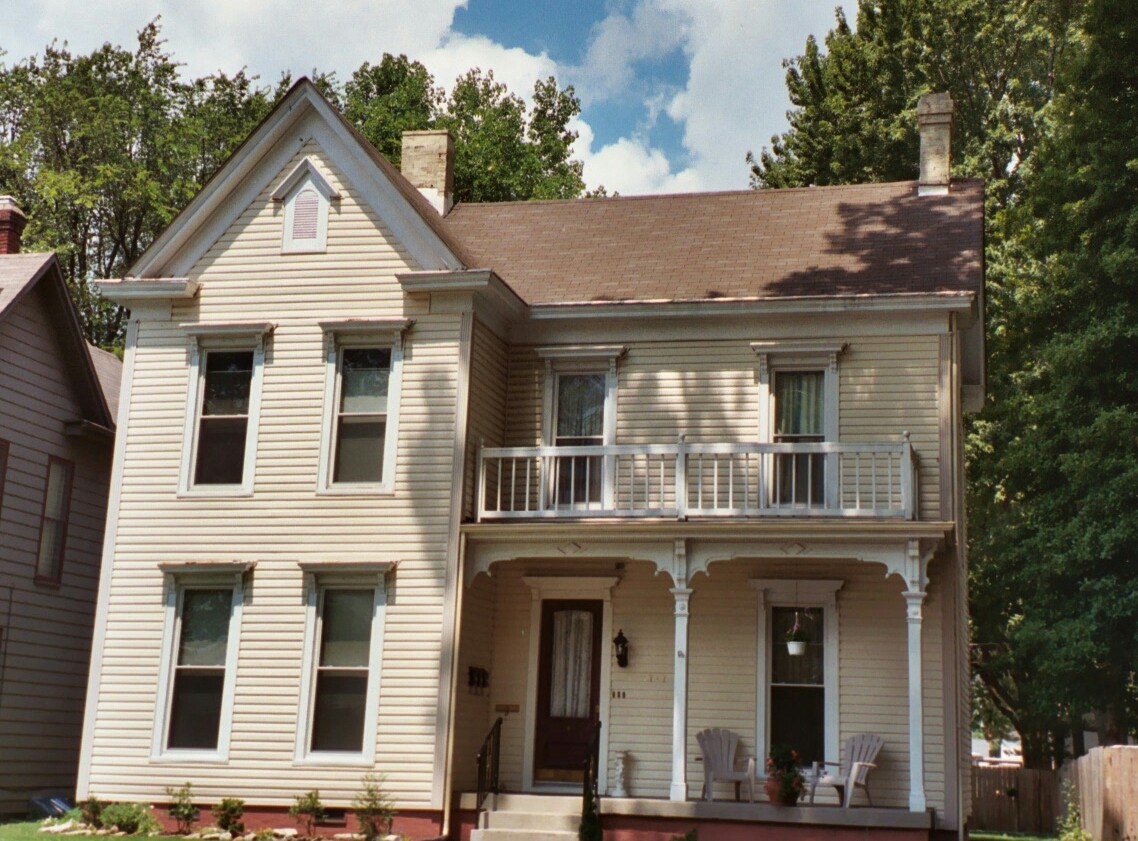 Gabled-ell (1870-1910)

Characterized by:
•Gable front with side-gabled portion.
•Asymmetric footprint.
•Usually frame construction.
•Possible architectural details from any style.
---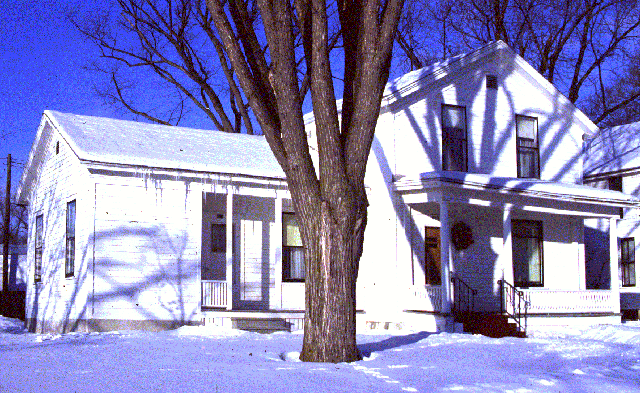 Upright and wing (1870-1920)
Characterized by:
•One and a half story gable.
•Side wing that is one half to one story lower than upright.
• L- or I-floor plan.
---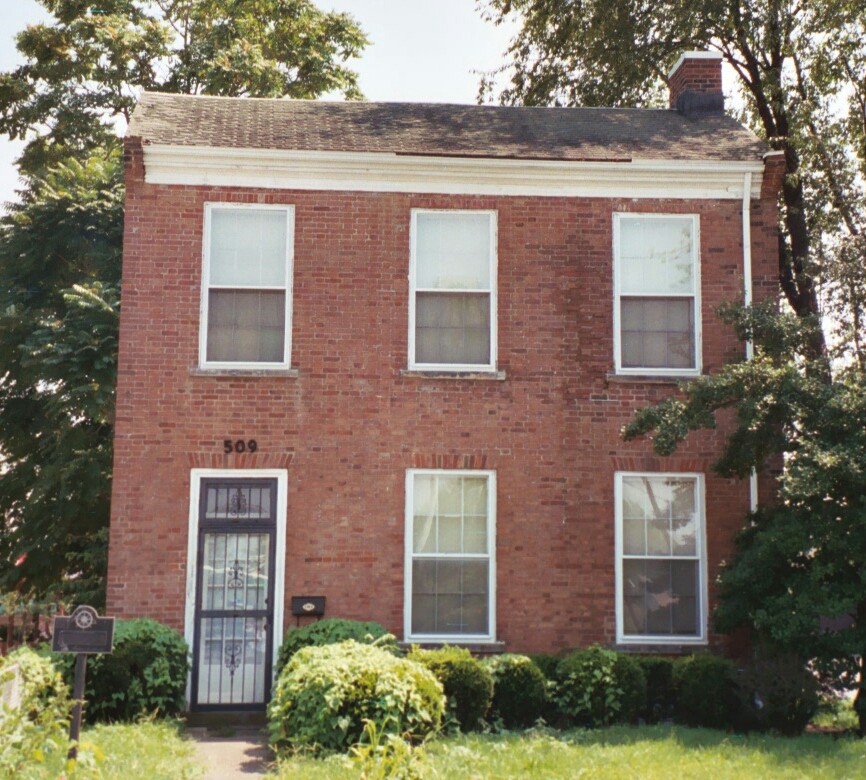 2/3 double pile (1820-1850)

Character-defining features:
•Three-bay façade
•Side-gable roof
•One room wide with side stair hall
•Often have Greek Revival or Italianate details
---
American Foursquare (1900-1930)

Character-defining features:

• Boxy shape.
• Low-pitched hipped roof.
• Wide overhanging eaves.
• Full-width front porch.
• Often has colonial or craftsman detailing.
---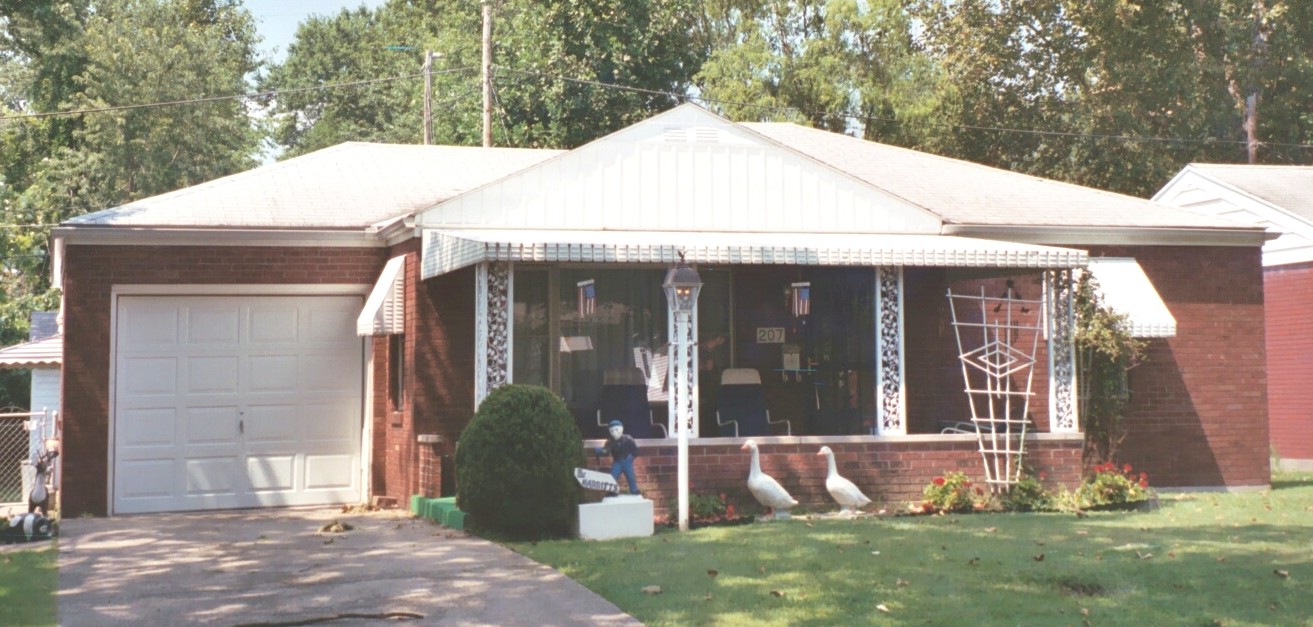 Ranch (1945-1975)

Character-defining features:

• One story
• Generally asymmetrical
• Low-pitched roof
• Maximum façade width
---
ARCHITECTURAL STYLES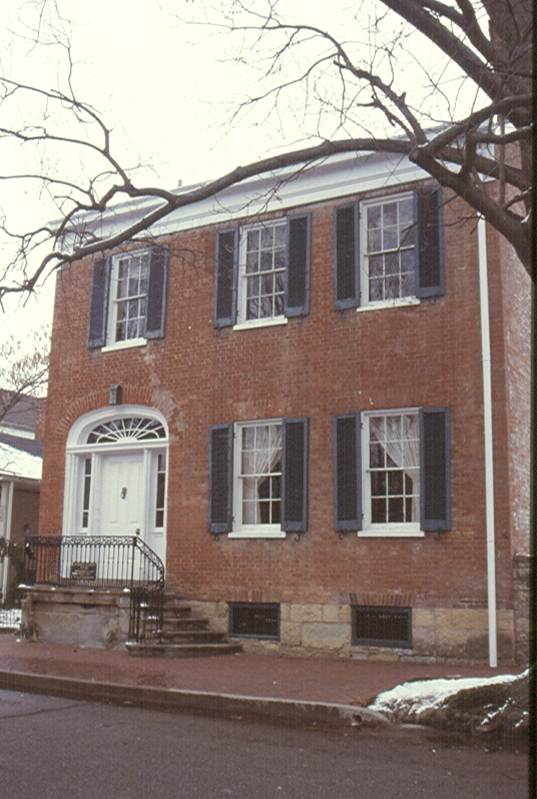 Federal (1810s-1840s)
The first American architectural style. Typically built of brick or wood, rectangular in plan, two stories in height, with a side gable roof. Entrance centered on a symmetrical main facade. Chimneys at the ends of the building and the double-hung windows usually have six panes per sash. The austere style, characterized by sparse ornamentation such as narrow cornice moldings and simple door surrounds.
Greek Revival (1840s-1860s)
Superceded the Federal style, dominant in residential and commercial buildings. First in a series of romantic architectural revivals popular throughout the country in the 19th century. Became popular after the War of 1812, stimulated by Americans' strong desire to sever cultural ties with Great Britain. Characterized by details mimicking classical Greek temples. Incorporated wide entablature moldings, cornice returns, porches with prominent square or rounded columns, doors with classical surrounds and narrow transom and sidelights.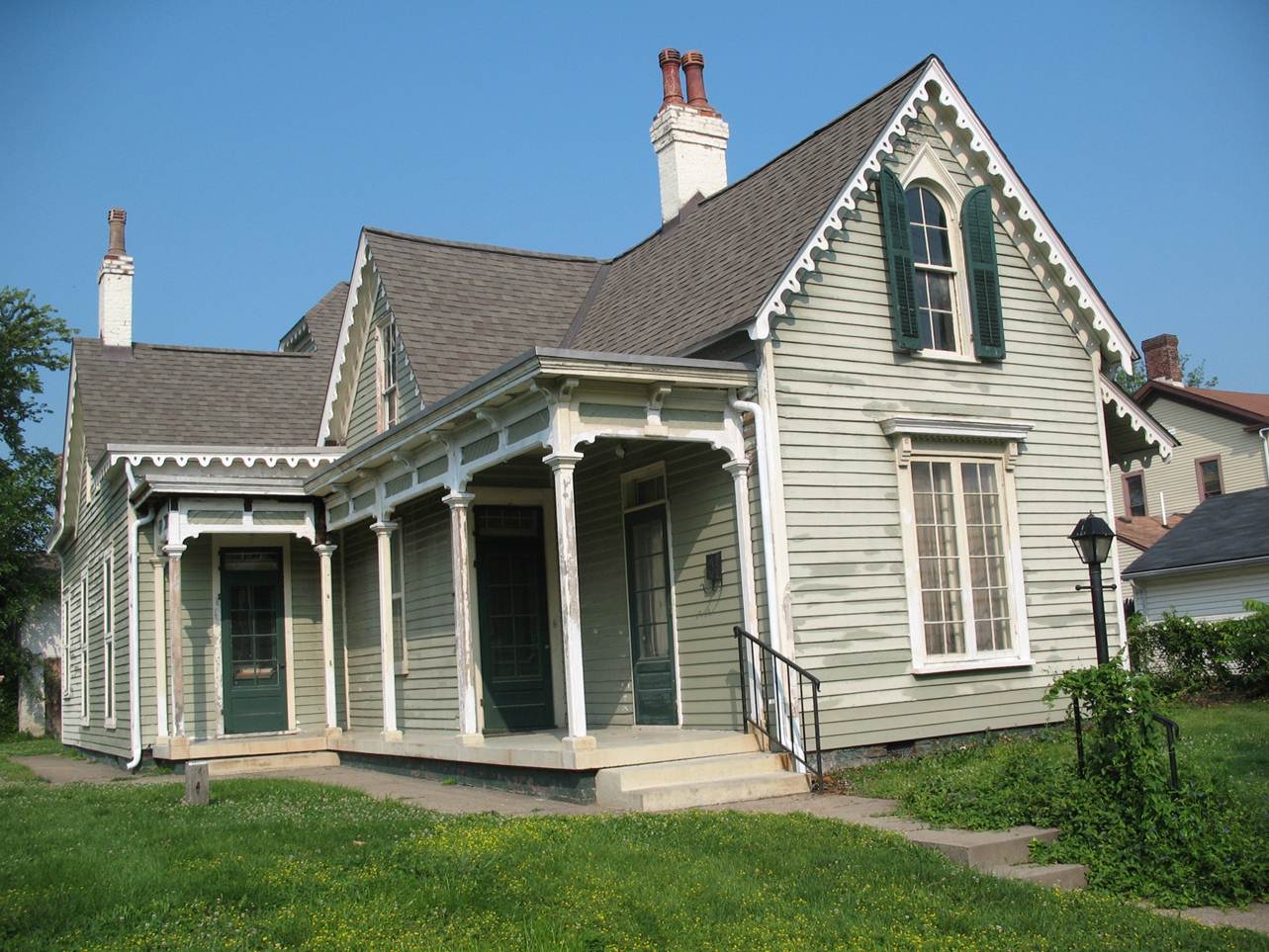 Gothic Revival (1850s-1870s)
Popular in Indiana domestic architecture from the 1840s to the 1860s and in ecclesiastical architecture from the 1840s into the 20th century. Beginning in England in 1749. the style became common throughout England over the next century. It did not find its American expression until after 1837 when Alexander Jackson Davis published his Rural Residences, the first house plan book published in this country. These buildings feature pointed arches and pointed windows. Gothic residences feature steeply pitched roofs, usually with steep cross gables and other details borrowed from medieval Gothic cathedrals.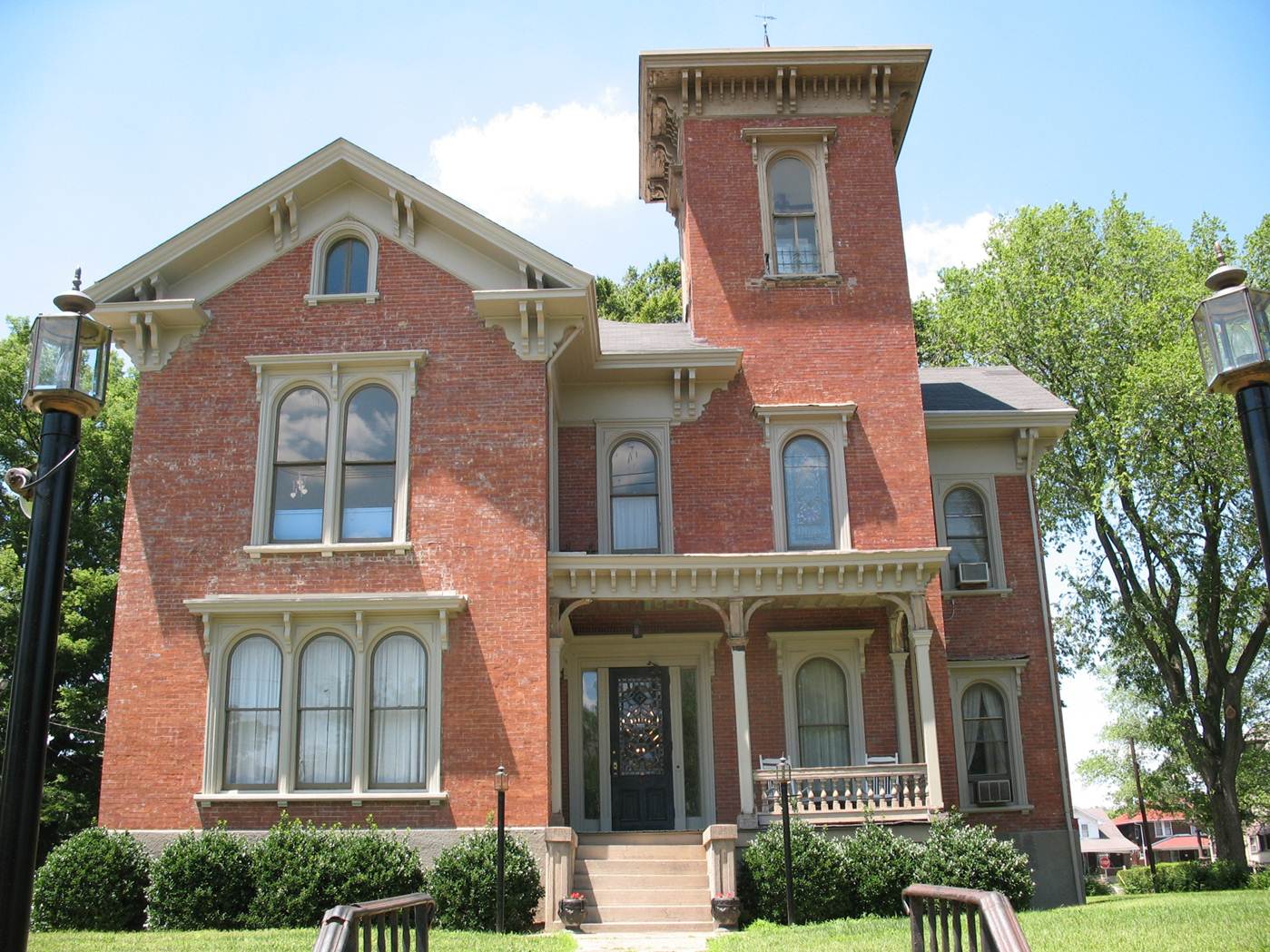 Italianate (1850s-1890s)
After the 1860s, the Italianate style became prevalent in the Midwest and retained its popularity into the 1890s. Commercial, governmental and residential buildings all demonstrated the style which tended toward picturesque qualities of rural Italian villas with a distinctive American flair. Italianate houses of brick or wood, two or three stories high, display low-pitched roofs with wide eaves and decorative wood brackets underneath. Tall, narrow windows with elaborate window heads lead the observer's eye up to square cupolas or towers atop the building. The Italianate style populates New Albany's 19th century neighborhoods.
Commercial Italianate structures, popular in the late 19th century, present elaborate, cast-iron or pressed-metal cornices, window heads, and storefronts. Upper story windows often have round or segmental arched openings. Commercial buildings of earlier styles were often updated with mass-produced Italianate ornamentation that simulated the elaborate cast-iron or pressed metal cornices, window heads, and storefronts. Italianate structures are common in downtown New Albany and along Vincennes Street.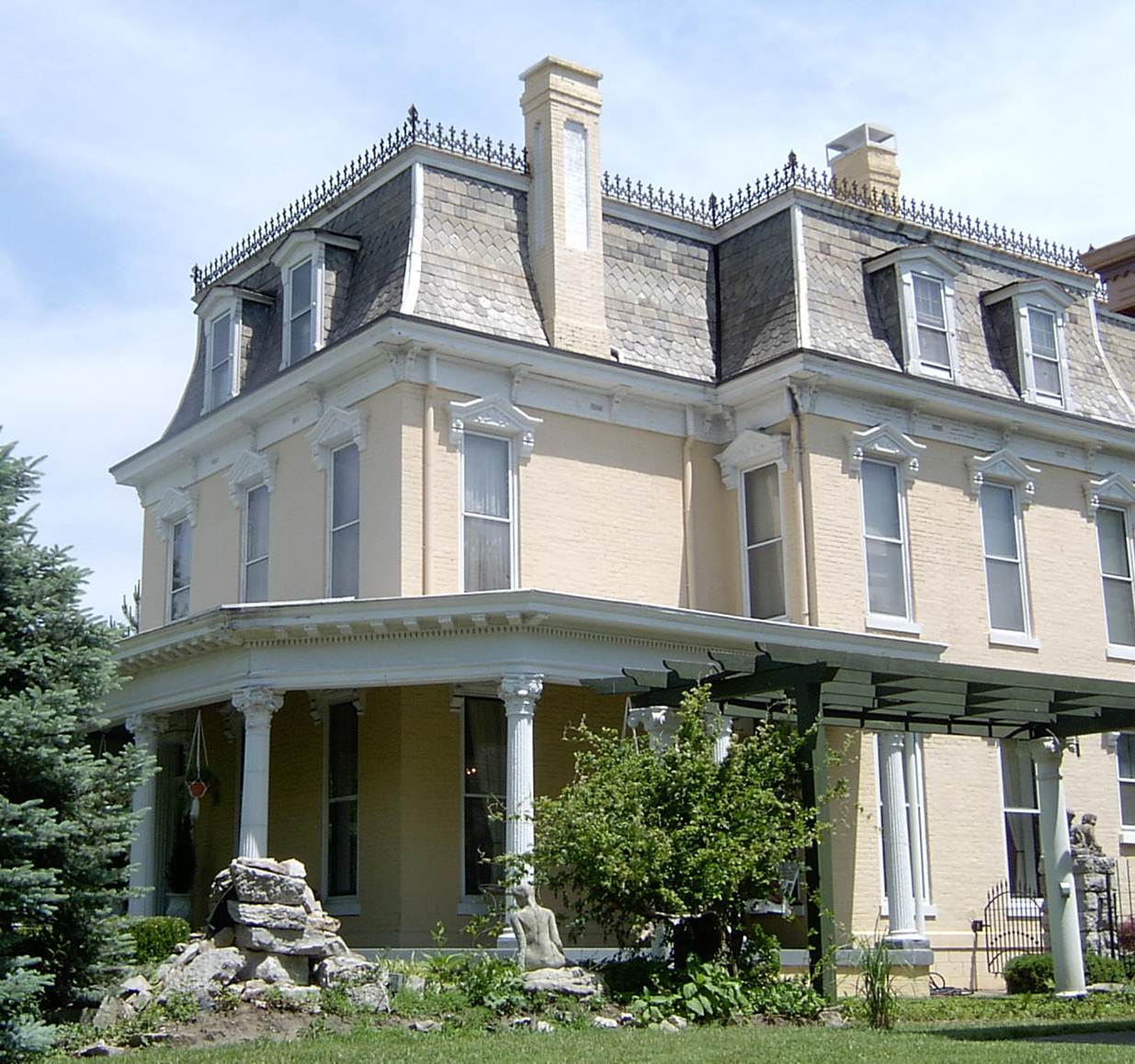 Second Empire (1860s-1885)
The Second Empire style (also known as the French Mansard or General Grant style) was extremely popular for a short period of time just after the Civil War. The style imitated French building fashions during the years of Louis Napoleon's Second Empire. The defining feature for the style is the Mansard roof, a dual-pitched hipped roof with dormer windows on the steep lower slope. The ornamentation of the Second Empire style is typically lavish, with ornate molded cornices, decorative brackets and embellished window and door surrounds.
Queen Anne (1885-1905)
This style, popular in New Albany from about 1885-1905, is an informal blend of Medieval elements and 18th century English architecture. Structures typically are asymmetrical and incorporate a variety of forms, textures, materials and colors. Some of the characteristics of the style include steeply pitched, complex roofs, windows of a variety of shapes and sizes, and a mix of exterior surface patterns and materials. Front porches - often with spindlework details - are typical and towers are common. The 'Free Classic' subtype of the style combines Classical details with the more fanciful Queen Anne style.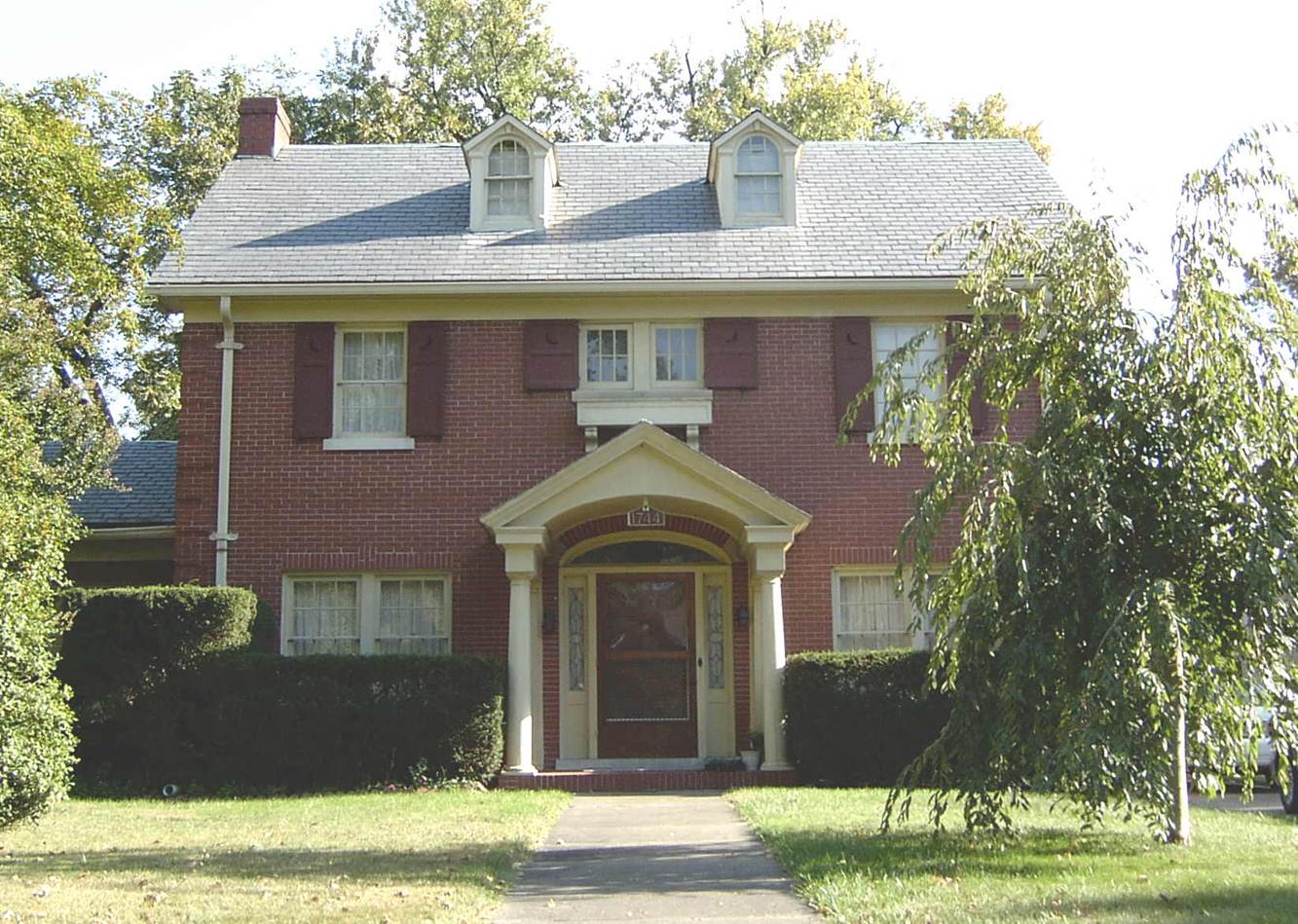 Colonial Revival (1876-1940s)
The Centennial Exhibition, held in Philadelphia in 1876, awakened America's interest in its architectural heritage and inspired the Colonial Revival style. Details and forms from the Federal, Georgian and Dutch Colonial styles were borrowed and combined into eclectic interpretations of colonial style, rather than exact reproductions. Colonial Revival houses typically have symmetrical main facades, a front entrance accentuated with decorative moulding and/or a fanlight and sidelights, and windows with double-hung, multi-pane sash. The Colonial Revival remained the dominant residential style until the mid-twentieth century. The Dutch Colonial Revival subtype is distinguished by its use of the gambrel (double-pitched gable) roof.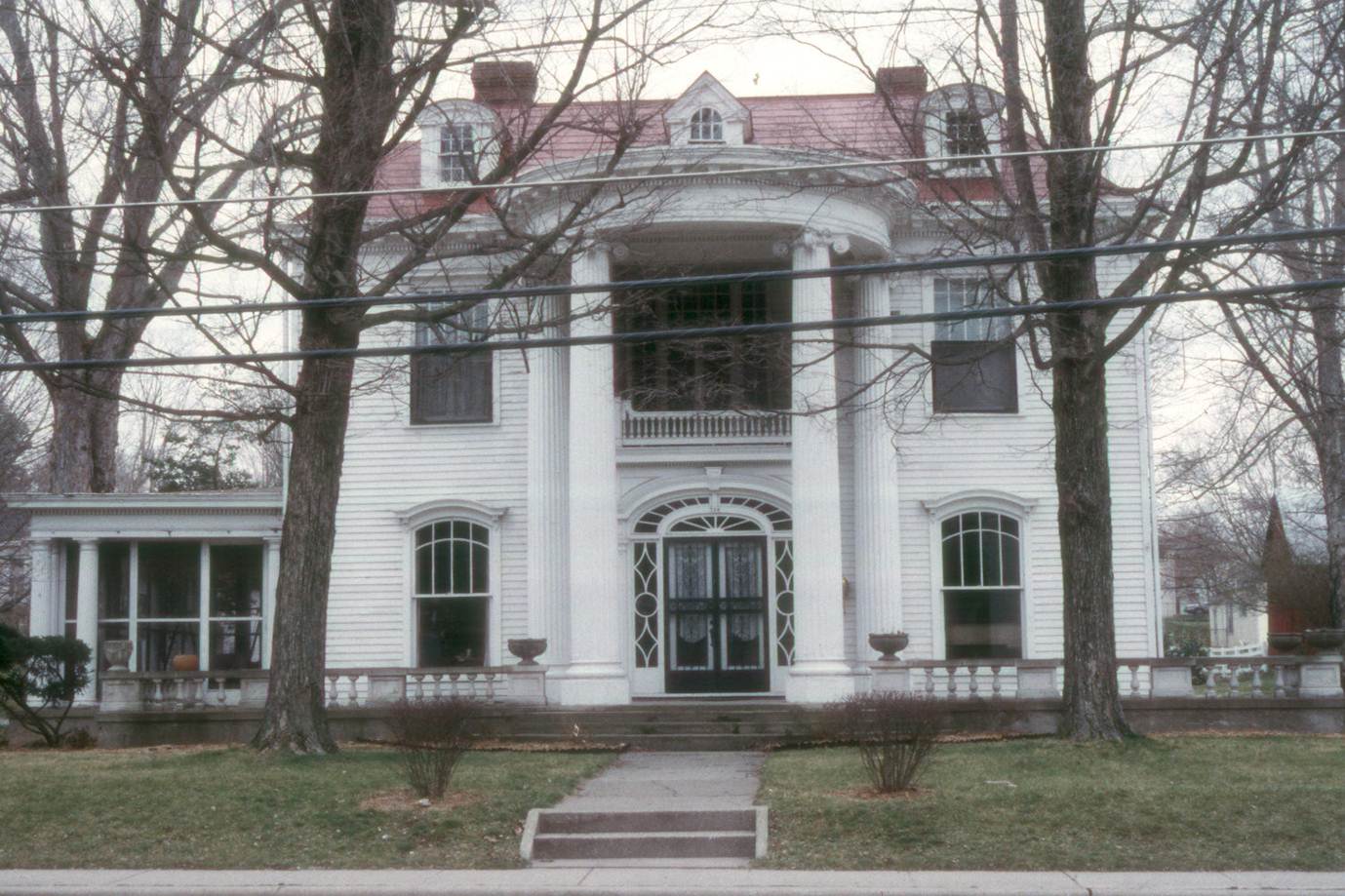 Neoclassical (1895-1950)
Chicago's Columbian Exposition of 1893 inspired interest in the Neoclassical style, which also remained popular into the 1950s. The exposition's planners required that the main buildings - which were built around a formal central court - be constructed in a classical style. The monumental scale of these examples made the style particularly popular for government buildings, schools, libraries and banks, although it was also used for residences. Characteristics of the style include the use of classical elements such as pilasters, keystones, pedimented window and door openings, and denticulated cornices. Full-height porches, often supported by Ionic or Corinthian columns, are also common on these symmetrical buildings.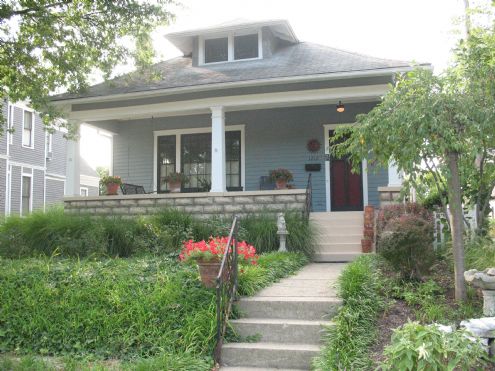 Craftsman/Bungalow (1905-1930)
The Craftsman style originated in southern California, influenced by the English Arts and Crafts movement and wooden Oriental architecture. The style was disseminated throughout the country by pattern books and architectural magazines and was popular from about 1905 into the 1930s, particularly for middle-class housing. Craftsman structures typically have low-pitched, gabled roofs with wide eaves and prominent front porches. The houses are simple in detail and massing and can have exterior cladding of clapboard, wood shingle, or brick. The term 'bungalow' is often applied to a one-story, vernacular example of the Craftsman style.

More Resources About Historic Properties and Preservation:
The Secretary of the Interior's Standards and Guidelines
Preservation Law-Related Terms