Louis and Michelle Hess House
1920 East Elm Street
New Albany, IN 47150

Sheriff Sale

Laura I. Foley purchased this lot, along with the neighboring one, from Alice
Genung
and her husband in March 1900 for $1000. Mrs. Foley had this house built immediately, along with the brick shotgun house at 1918 East Elm. She used the property for investment purposes.
Over the next 80 years, this structure saw several different owners and numerous tenants until Louis and Michelle Hess took occupancy of the structure in the early
1980s
. They would eventually purchase the property in April 1986. The
Hesses
were the first owner-occupants of the home, living here for almost 20 years. Mr. Hess was an employee of Bluegrass Chemical.
The property's judgment number is _____________. With this number you can visit the Clerk's Office in the City-County building and enter it into their computers to find the judgment owed on the property. This is public record.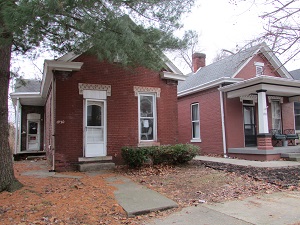 Contact:

To be sold at Sheriff's Sale Thursday, 26 January 2017 at 10:00 AM in the Office of the Sheriff of Floyd County (first floor of the City-County Building, 311 Hauss Square, New Albany). Judgment number: