Crumbo-Scharf House
1505 East Oak Street
New Albany, IN 47150

Sheriff Sale

This house, along with the one next door at 1507 East Oak, were both built for investment purposes for Edward Crumbo, sometime between 1872 (when Crumbo purchased the property) and 1885. He was a former mayor and a leading New Albany businessman, being co-proprietor of Crumbo & Melcher Stone and Marble Works. The Crumbo family were members of the German Evangelical Church, now known as St. Marks United Church of Christ in downtown New Albany.
The first residents of 1505 are unknown, but by 1895 Cordelia McQuiddy was residing here and would remain until around 1906. She was a member of Second Presbyterian Church, now known as St. John United Presbyterian Church located on East Elm Street. Cordelia was widowed in 1885, when her husband, Col. Thomas McQuiddy, passed. He was the colonel of the One Hundred and Forty-third Indiana Infantry and accompanied Gen. Sherman in his march to the sea. Col. McQuiddy is buried in the New Albany National Cemetery on Ekin Avenue.
After the death of Edward Crumbo in 1905, his wife, Phoebe, took ownership of the property. Gustav Crumbo, their son, lived in the home over ten years from 1907 to 1916. In 1923, Phoebe Crumbo sold the house to Edmund Scharf and his wife Jane, ending over a half-century of ownership of the property by the Crumbo family.
Scharf was a clerk for the Pennsylvania Railroad, retiring after 32 years of service with the company. He passed in February 1945 at age 75. Jane remained in the home through the early 1960s. She died in August 1974 at 91 years. Both were members of Holy Trinity Catholic Church in downtown New Albany.
The property's judgment number is 22D01-1710-MF-001418.
With this number you can visit the Clerk's Office in the City-County building and enter it into their computers to find the judgment owed on the property. This is public record.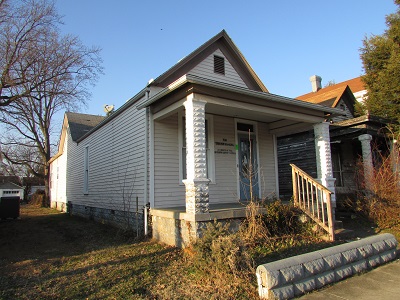 Contact:
To be sold at Sheriff's Sale Thursday, 21 February 2019 at 10:00 AM on the third floor of the City-County Building (311 Hauss Square, New Albany). Judgment number: 22D01-1710-MF-001418.