Malbon-Lonnon House/IOOF Hope Lodge No. 1
310 West Market Street
New Albany, IN 47150

Sheriff Sale

This home could have been built earlier than 1835, although the first record of a resident in the house was steamboat Captain Solomon Molbon in that year. Also, in August of 1835, the first meeting of the Independent Order of the Odd Fellows in the state of Indiana (IOOF Hope Lodge No. 1), was held in this house with Capt. Malbon as a charter member. The undated photo below appeared in a publication outlining the group's history in New Albany.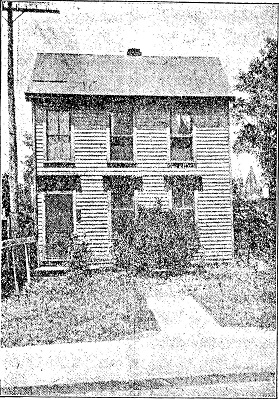 At this time, the structure was located on the south side of East Main Street between State and Pearl, on the southeast corner of Main and the alley. The house was moved to its present location in 1849 soon after the Odd Fellows vacated it.
The home was then used as the residence for George and Mary Lonnon and their family. The elder Lonnons both died in 1913 and Miss Tillie Lonnon remained in the house until shortly before her death in 1935. The centennial celebration of the Oddfellows in Indiana was celebrated at the house that same year.
Following Miss Tillie Lonnon's death the house was again sold, bringing $475 at an auction. A
New Albany Tribune
article in June 1936 described the purchase of the landmark:
"The Cradle of Indiana Odd Fellows, a two story frame residence located at 310 West Market Street, New Albany, was sold Saturday afternoon the the Union National Bank at a public auction to Mrs. Fannie Sarles, 221 E. 5th Street, for $475.
The home, more than 100 years old, housed the first Odd Fellows of the state when it was located where the Kerrigan Theatre now stands. It was later moved to its present location. It was last occupied by the late Matilda A. Lonnon.
It is understood that Mrs. Sarles intends to improve the structure which will be used for residential purposes."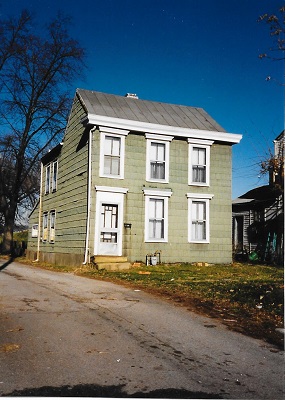 The photo above shows the home circa 1990.
The property's judgment number is 22C01-1901-MF-000065
. With this number you can visit the Clerk's Office in the City-County building and enter it into their computers to find the judgment owed on the property. This is public record.
Contact:

To be sold at Sheriff's Sale Thursday, 15 August 2019 at 10:00 AM on the third floor of the City-County Building (311 Hauss Square, New Albany).

Judgment number: 22CO1-1901-MF-000065.