King-Heinz House
2132 Morton Avenue
New Albany, IN 47150

Sheriff Sale

Built in the former town of Silver Grove, this house was constructed in 1924. Silver Grove was incorporated as a separate town in 1886, and had its own Town Hall and Town Council, as well as its own police and fire departments. The boundaries of the town were roughly Silver Street to the west, Charlestown Road to the north, Beharrell Avenue to the east and Spring Street to the south. Silver Grove was annexed into New Albany in 1915.
Oris King was the first occupant of the home and remained about five years. After that, the house saw a number of different families until the late 1930s; when newlyweds, William and Edith Heinz, married in November 1937; were living here. Heinz was a partner in the electrical concern of Geo. W. Heinz Electric Co.
Again, the structure saw numerous residents through the 1950s and 1960s after the Heinz family moved from the home in 1949.
The property's judgment number is 22CO1-2012-MF-001413
. With this number you can visit the Clerk's Office in the City-County building and enter it into their computers to find the judgment owed on the property. This is public record.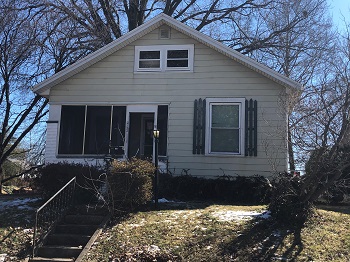 Contact:
To be sold at Sheriff's Sale Thursday, 29 April 2021 at 10:00 AM on the third floor of the City-County Building (311 Hauss Square, New Albany). Judgment number: 22CO1-2012-MF-001413.