Nelson & Wilma Goss House
216 Olive Avenue
New Albany, IN 47150

Sheriff Sale

Built on a vacant lot, it appears that Nelson and Wilma Goss purchased this property in April 1957 and had the home built immediately. The Gosses made their home here for over 45 years. The couple raised their three children here; Debra, Victoria and Glenn.
Mr. Goss was retired from the Louisville concern of International Harvester and Wilma from Indiana Bell. She later worked at New Albany's acclaimed, Fashion Shop. Wilma and Nelson lived here until their deaths in January and October 2004 respectively.
The property's judgment number is 22C01-2202-MF-000134
. With this number you can visit the Clerk's Office in the City-County building and enter it into their computers to find the judgment owed on the property. This is public record.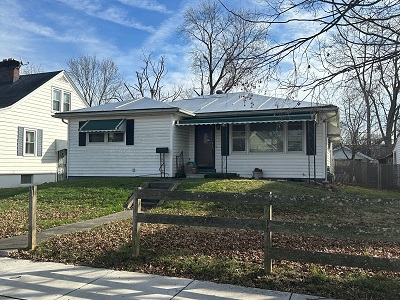 Contact:
To be sold at Sheriff's Sale Thursday, 19 January 2023 at 10:00 AM on the third floor of the City-County Building (311 Hauss Square, New Albany). Judgment number: 22C01-2202-MF-000134.