Samuel Culbertson wed Louise Craig in April 1886, and after a lengthy honeymoon in Europe they settled into their new home at 904 East Main Street. The house was built as a wedding gift from Samuel's father, businessman and philanthropist William S. Culbertson. The home's builders, William and James Banes, were responsible for the construction of many of Mansion Row's finest homes, includes the William Culbertson Mansion at 914 E. Main, the Shipman-McCord Mansion at 1206 E. Main, and the McClung House at 1118 E. Main, among others.
Samuel was the youngest of eight children born to William Culbertson and his first wife, Eliza. He showed an early affinity for finance, elected cashier of the First National Bank in New Albany by age 22 and becoming the bank president eight years later. He also served as president of the Fair Association and received positive reviews for his performance as Lord Pish Tush in
The Mikado
at the New Albany Opera House. The photo below shows the home in 1893, soon after its construction.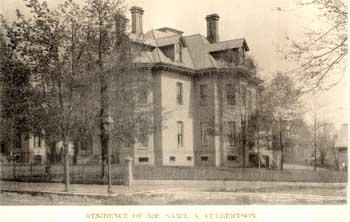 In 1896, Culbertson purchased a lot on Third Street in Louisville and made plans to erect a new home there. In December 1896 this property was sold to Dr. John Hazlewood – who used it as an eye clinic as well as his residence – and the Culbertson family moved across the river. Culbertson would go on to become president of Churchill Downs racetrack from 1928 to 1937, and is generally credited with conceiving the idea of draping the winner of the Kentucky Derby with a garland of roses. Culbertson died in December 1948 at the age of 86.
In September 1939 the property was purchased by the Manzanita Tribe Number 276, Improved order of Red Men, a men's fraternal organization. The group used the house as their meeting space and in 1950 built a large Quonset-hut shaped addition on the rear to serve as recreation space. The fraternal group moved to a new building in 2004 and the house was sold to local businessmen Carl Holliday and Steve Goodman, who operated it as Culbertson West, an events venue.
The Samuel Culbertson Mansion offers over 16,000 square feet of space, including six bedrooms and two full and six half bathrooms. The brick exterior includes multiple bay windows, and tall chimneys and multiple gabled dormers accent the complex roofline, which has a bracketed cornice below.
An ornate iron porch accents the façade, and the limestone lintels above the windows feature a carved floral motif. The grand front entrance – with limestone steps leading to paneled double doors, topped by a massive pedimented hood – is another example of the skillful architectural detailing.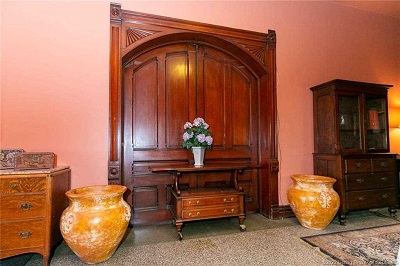 Despite its years as a fraternal meeting hall, the interior of the home retains a remarkable amount of its historic materials and character. Most of the home's original woodwork with bullseye corner blocks remains. From the wide center hallway, a cased, arched opening with a sunburst motif at the archway corners frames pocket doors that open into a double parlor.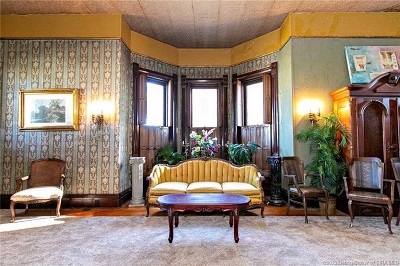 These rooms are highlighted by a central bay window and a walnut fireplace with original tile on the hearth and scrolled supports flanking hand-carved cranes. An over-mantel with beveled glass mirror, fretwork and panels with a wooden basket-weave design adds further visual interest to the fireplace.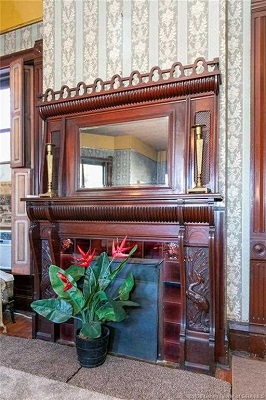 In the center hallway, the open staircase features an Eastlake-style newel post and was originally lit with a stained glass window with multiple jeweled and faceted components, Although the window is not currently in place, it remains with the house and could be repaired and reinstalled.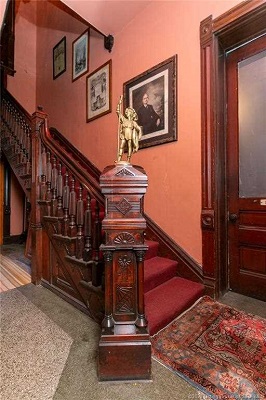 Other noteworthy interior features include original, paneled interior shutters, walnut mantels with over-mantels in the second floor bedrooms, and an encaustic-tiled entry foyer.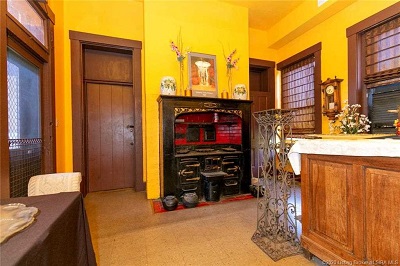 The kitchen includes a large cast-iron stove manufactured by Bridgeford & Company of Louisville. The third floor, which is virtually untouched since the home's construction, retains original gas-powered sconce light fixtures and built-in cabinetry.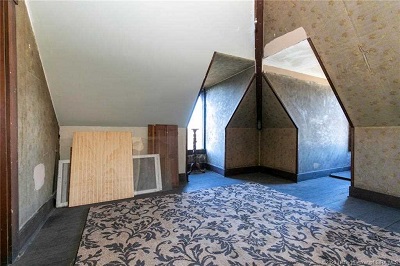 The approximately 5400 square foot addition on the rear of the house is largely one open space, with restrooms and a kitchen. It features a distinctive diamond-paneled ceiling and parquet flooring, and connects into a bar area added by the Red Men in 1939.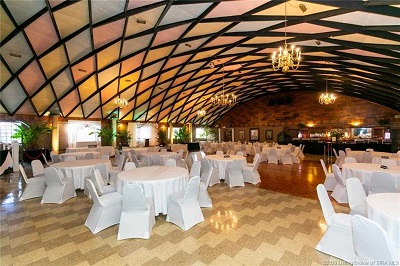 The home sits on a lot that encompasses half of a city block, which includes a private courtyard area with a fountain. A period iron fence not original to the property runs along the front sidewalk.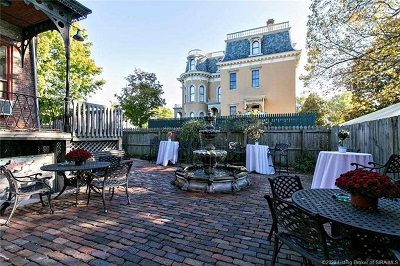 Because the Samuel Culbertson Mansion is listed in the National Register of Historic Places as a contributing part of the Mansion Row Historic District, the owner would be eligible to take advantage of tax credits to help recoup qualified rehabilitation costs. For more information, visit
http://www.in.gov/dnr/historic/2814.htm
. The neighborhood is also a locally designated historic district. Because of this local designation, any exterior alterations must be reviewed and approved by the New Albany Historic Preservation Commission. For more information about the NAHPC and a copy of the City of New Albany Design Guidelines for local historic districts, please visit
www.newalbanypreservation.com
.
To be sold at online-only auction ending March 3. Real estate has an opening bid of $495,000, and the property will sell to the highest bidder once the opening bid has been placed. Inspection by appointment only: to schedule, call Beckort Auctions LLC at 812/738-9476. More information available at
https://www.beckortauctions.com/project/details/51278/
.