Smith-Franck House
412-414 East 9th Street
New Albany, IN 47150

$0

This double house appears to have been built around 1860 for investment purposes for Russell Smith. Smith sold the property in July 1886 for $1,050.00 to the Franc/Franck/Frank family. The home remained in the family until about 1920.
The exterior needs repair but retains much of its original character, including clapboard siding and six-over-six and four-over-four wooden windows. The nicely-detailed, Craftsman-style front porch, which is currently enclosed, was likely added sometime around 1920, and is very visible in the photo below from about 1965. The house was re-roofed approximately ten years ago.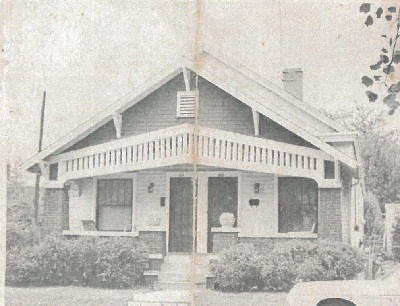 The duplex offers about 1545 square feet of living space in total, including one bedroom and one bathroom in each unit as currently configured, with a shotgun-style floor plan.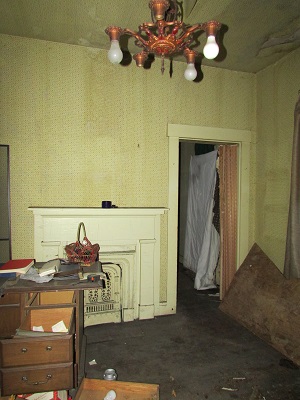 Original, simple woodwork and four panel doors are found throughout, with some hardwood floors exposed. The south parlor includes a fireplace with a Classical-inspired wooden mantel, and a vintage light fixture. Other amenities include built-in cabinetry, French doors, and a clawfoot bathtub. The second level, which was used as additional living space, is reached via an enclosed staircase in the south unit.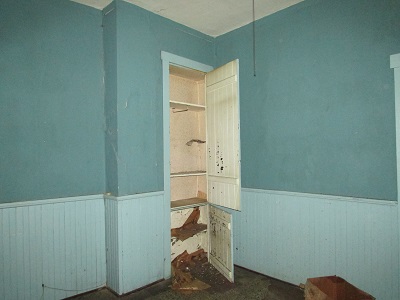 PROPERTY IS BEING OFFERED FOR FREE UNTIL MAY 12 BUT MUST BE RELOCATED. WILL BE AVAILABLE FOR INSPECTION FROM NOON-1 PM ON THURSDAY, 12 APRIL AND FRIDAY, 20 APRIL OR BY APPOINTMENT.
Sale Price:
$0.00
Contact:
For more information contact Jude at 812/786-5327 or judeloew@barrywooley.com.