house
706 Shelby Street
New Albany, IN 47150

$8,700

The New Albany Redevelopment Commission is currently solicitng proposals for the purchase and rehabilitation of this gable-front home, built circa 1870. The property is adjacent to historic Fairview Cemetery.
Sealed written bids must be submitted on a bid form available through the Office of Redevelopment, and must be received at Room 325, City-County Building, 311 Hauss Square, New Albany, Indiana 47150 no later than 2:30 PM local time on Tuesday, September 22, 2020. Minimum bid is $8700.00.
Terms of sale:
Terms of payment are subject to approval by the New Albany Redevelopment Commission. A strong preference will be given to both abutting land owners and single family housing. Single family housing will be considered with an investment schedule including a description of a commitment of funds in an amount sufficient to renovate the property to excellent condition making it a contributing structure to the neighborhood's aesthetic value by definition according to the Indiana Historic Sites and Structures Inventory. Persons that currently owe delinquent taxes and/or liens to the City of New Albany or Floyd County need not submit a bid.
The photo below shows the home in 2010, with more of the architectural features visible.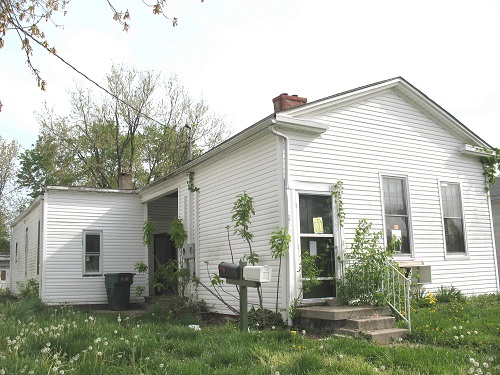 Sale Price:
$8,700.00
Contact:
For more information contact the Department of Redevelopment, 812/948-5333.