Edward & Emma Riely House
1214 East Elm Street
New Albany, IN 47150

$200,000

This home was built for Edward and Emma Riely in 1898. Emma was the former Emma Hegewald from a very prominent family in New Albany. Riely was partners with John Zollmann in the business Riely & Zollmann, dealer in shoes, located at 304 Pearl Street in downtown New Albany. He later was the sole proprietor of the Boston Shoe Store, located at 211 Pearl Street. Emma passed away in December 1940 and by the time of Edward's death in August 1941, he was residing in Silver Hills.
Records indicate that home was likely used as a boarding house during the early to mid-1940s, as were many of the larger residences in New Albany during this period of time.
By the late 1940s, Walter Coleman, owner of Coleman Furniture Moving & Storage, located at 142 West Main Street in downtown New Albany, was living here. He passed in 1951 and it appears that his sister, Thelma Coleman, then took up residency here. She was also an owner of the above-mentioned business. The property has several other residents since that time, including Carman and Betty Conrad, Rebecca Conrad, Melissa McIntosh, and William and Delores Redding.
Blending elements of the Queen Anne and Colonial Revival styles, this spacious home offers approximately 2600 square feet of living area, including four bedrooms and two bathrooms. The attic offers an additional 680 square feet that could be finished for more living space. The 2 ½ story, frame house is topped with a complex hipped roof and tall, corbelled brick chimneys add visual interest to the roofline. The front elevation also has a pair of gabled dormers with arched windows allowing light into the attic. The full-width front porch is supported by modified Tuscan columns on wood plinths and provides a great spot for enjoying the outdoors. The east and west side elevations both include a two-story bay. The house is currently clad in vinyl siding but retains its original one-over-one wood windows, now protected with storm windows.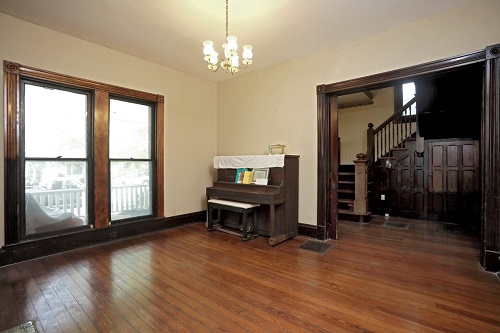 The interior retains much of its original character, including original wood trim with bullseye corner blocks and brass Eastlake door and window hardware. Original heart pine flooring also remains throughout the house.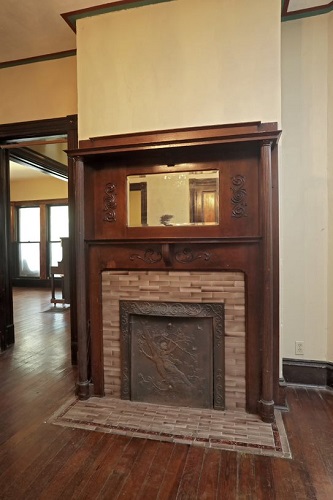 Both the front and back parlors, as well as the dining room, have oak fireplace mantels with original tilework and decorative cast iron summer covers. Three sets of paneled pocket doors also remain.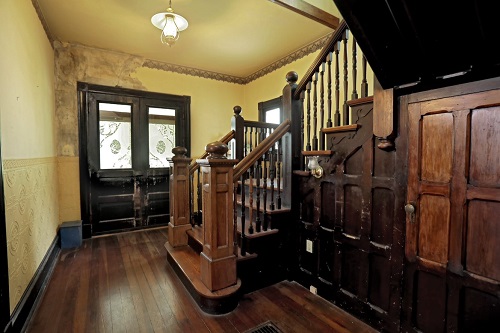 Two staircases lead to the second story - including the paneled oak and pine primary staircase - and original, embossed Lincustra-Walton wallcovering remains in both the front and back staircase halls. An original built-in pantry cabinet is also found in the back hall, off the kitchen.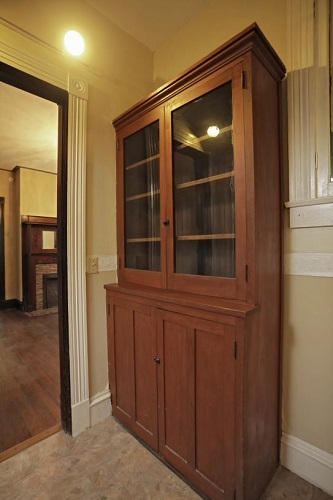 Upstairs, the primary bedroom has an oak fireplace mantel similar to those found on the main level. Another bedroom includes a built-in window seat in the bay.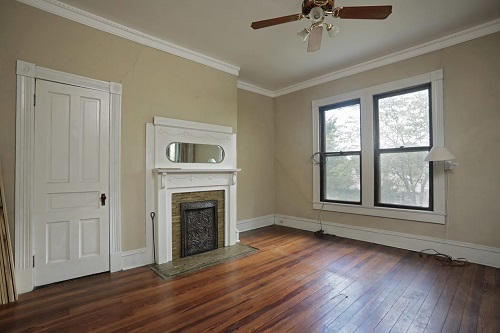 Some paneled interior shutters remain, with others stored in the attic. The bathroom retains its clawfoot tub, as well as a shelved mirror and a marble sink.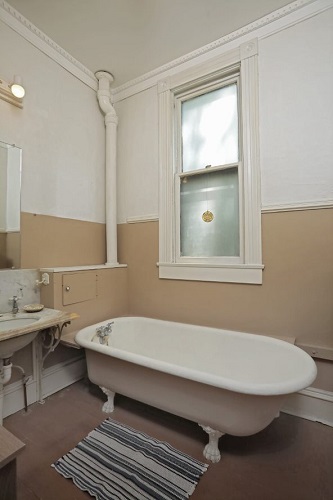 Because the Riely House is a contributing element in the National Register-listed East Spring Street Historic District, the owner would be eligible to take advantage of tax credits to help recoup qualified rehabilitation costs. For more information, visit
https://www.in.gov/dnr/historic-preservation/help-for-owners/financial-assistance/rehabilitation-credit/
. This portion of Elm Street is also within a locally designated historic district; therefore, any alterations must be reviewed and approved by the New Albany Historic Preservation Commission. For more information about the NAHPC and a copy of the City of New Albany Design Guidelines for local historic districts, please visit
www.newalbanypreservation.com
.