McFall-Rouff House
1911 East Elm Street
New Albany, IN 47150

Sheriff Sale

Built c.1888. Queen Anne. The McFall-Rouff House. This beautiful brick, Queen Anne house - likely eligible for individual listing in the National Register of Historic Places - was built between 1888 and 1889 for Charles W. McFall, a carrier for the U.S. Post Office. In his later years, Mr. McFall had a grocery at 1422 East Elm Street.

In November of 1904, Dr. Hettie McFall sold the home. There were several owners before William F. Ruoff, a lawyer, purchased the house in August of 1913 and lived here for over 30 years. Mr. Ruoff died in December of 1944 and his widow, Lee, remained in the home until May of 1965.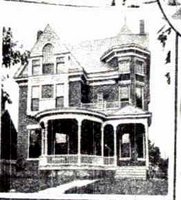 (Photo of the house in 1909)

Contact:
To be sold at Sheriff's Sale Tuesday, 22 August 2006 at 10:00 AM in the Office of the Sheriff of Floyd County (first floor of the City-County Building, 311 Hauss Square, New Albany). NO THIRD PARTY BUYER AT SHERIFF'S SALE - MAY BE MARKETED BY A REAL ESTATE COMPANY IN UPCOMING WEEKS.