Tully-Preis House
1408 Ekin Avenue
New Albany, IN 47150

Sheriff Sale

Built c.1888. Shotgun. The Tully-Preis House. Thomas T. Tully, Jr. purchased this lot in August of 1887 for $500.00 from Wm. Tighe, Jr. and had this house built. The Tully family was first listed at this address in the 1890 New Albany City Directory. Mr. Tully was on the police force and in later years his occupation was listed as a watchman. Thomas died in April of 1914 and his widow, Kathern remained in the house for several years until she sold the property in February of 1920 to Gustave H. Pleis and his wife Anna.
Mr. Pleis was listed in the New Albany City Directory as working for S. Day & Sons as a handyman. August, as he was known, died in March of 1922 and Anna remained in the home for some 30 years after his death. Anna passed away in June of 1957.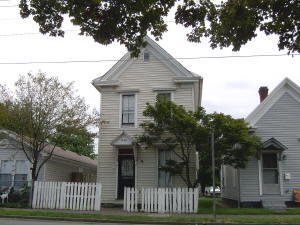 Contact:
To be sold at Sheriff's Sale Wednesday, 30 August 2006 at 10:00 AM in the Office of the Sheriff of Floyd County (first floor of the City-County Building, 311 Hauss Square, New Albany).