Brock-Wolf-Froman House
2104 Shelby Street
New Albany, IN 47150

Sheriff Sale

Built c.1915. Bungalow. The Brock-Wolf-Froman House. This area of New Albany was once a separate town, which was incorporated in 1886 and was known as Silver Grove. The boundaries were roughly Silver Street to the west, Charlestown Road to the north, Beharrell Avenue to the east and Spring Street to the south. The town had its own town hall with town council along with is own police and fire departments. Silver Grove became part of New Albany in 1915.
James W. Brock purchased this lot in March of 1906 from James H. Brock. The house was built around 1915 and the first entry for the address was in the 1917 New Albany City Directory listing James W. as residing here. Previously, the family resided at 2108 Shelby Street. James died in March 1918 and the house was sold in March of 1920.

The Charles W. Wolf family was next to purchase the home and they lived there for only six years. Mr. Wolf was a plasterer. In April of 1926, the property was sold to the Froman family, and remained in the family through October of 1974. Over this period of time, there were numerous Fromans listed as living here including Jessie, Charles, Homer and Edith.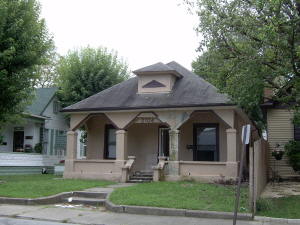 Contact:
To be sold at Sheriff's Sale Wednesday, 30 August 2006 at 10:00 AM in the Office of the Sheriff of Floyd County (first floor of the City-County Building, 311 Hauss Square, New Albany).