Umbreit-Frakes House
317 East Tenth Street
New Albany, IN 47150

Sheriff Sale

Built c.1895. Cross-plan cottage with Queen Anne detailing. The Umbreit-Frakes House. This house was built sometime between 1892 and 1897 on part of the site of the former J. Gebhard & Company Brewery. The structure was used as rental property the first 50 years and saw numerous occupants.

By the late 1940s, the New Albany City Directory listed Mrs. Lillian Umbreit as residing here and remained through about 1960. Otto Umbreit was listed as living here from 1961 through 1963. In the 1966 New Albany City Directory, Mrs. Saloma Frakes is listed as occupying the home and she remained through the mid 1980s.
This house retains much of its original exterior detailing, including window hoods and porch ornamentation. The property is located within the locally regulated East Spring Street Historic District. Any exterior alterations must be reviewed and approved by the City's Historic Preservation Commission. For more information about the Commission and its regulations, visit www.newalbanypreservation.com. The home is also listed in the National Register of Historic Places as a contributing part of the East Spring Street National Register Historic District, which would qualify the owner to utilize state and/or federal tax credits to help offset the cost of rehabilitation.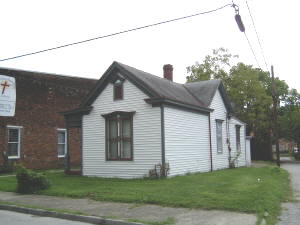 Contact:

To be sold at Sheriff's Sale Wednesday, 30 August 2006 at 10:00 AM in the Office of the Sheriff of Floyd County (first floor of the City-County Building, 311 Hauss Square, New Albany).