Samuel & Genevieve Tillman House
514 East Fourth Street
New Albany, IN 47150

Sheriff Sale

Built c.1890. Shotgun. The Samuel & Genevieve Tillman House. Records are very limited as to when this house was built and for whom. The Sanborn Maps of 1886 does not show this structure yet built, but the 1891 Sanborn Maps do. The early residents of this home are as follows: Rev. Frank T. Porter, pastor of Park Christian Church; Wm. H. Potts, a clerk; and C. Oscar Lohmeyer, a laborer for E. V. Knight's New Albany Veneering Co.

By the early 1930s, Samuel and Genevieve Tillman were residing here. Samuel was first listed at this address in the 1933 New Albany City Directory as a body builder (car? or human?). Later he was listed as being involved with the Clean Coil Co. Meanwhile, as early as 1943, the Tillman Music Co. was being listed at this address. It appears the house was used as rental property as early as the 1950s.

The Southern Indiana Multiple Listing Service of 1970 lists the house for sale and the owner is still Genevieve Tillman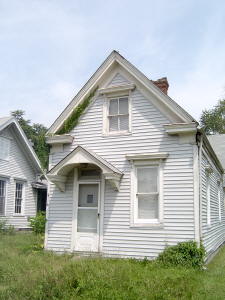 Contact:
To be sold at Sheriff's Sale Tuesday, 19 September 2006 at 10:00 AM in the Office of the Sheriff of Floyd County (first floor of the City-County Building, 311 Hauss Square, New Albany). NO THIRD PARTY BUYER AT SHERIFF'S SALE - MAY BE MARKETED BY A REAL ESTATE COMPANY IN UPCOMING WEEKS.