Johantgen-Lynch House
1948 East Oak Street
New Albany, IN 47150

Sheriff Sale

Built 1905. Queen Anne. The Johantgen-Lynch House. Mancel W.Mitchell and his wife purchased this lot in October of 1904 for $700.00. It is very probable that Mr. Mitchell built the house since he was a contractor by trade. The home was finished by 1905, the same year as the first listing in the New Albany City Directory for the Mitchell family.

Mancel and his wife sold the property to Mathias J. Striegel in April of 1907 for $2,400.00. The Striegels only lived here six years before selling the house to Wm. O. Sands and his wife in February 1913. The following September, the Sands sold the property to John L. Wrege.

Mr. Wrege was a bookkeeper, credit manager and eventually became president of the Louisville Stove & Tin Co. The Wreges lived here through 1926 and relocated when their new home in DePauw Place was completed.
Isaac N. Johantgen purchased the house from the Wreges and he and his wife, Maude, lived here for 15 years. Mr. Johantgen was a clerk with the Pennsylvania Railroad.

The property was next sold to Bernard O. Umbach in February 1941. Mr. Umbach, his wife Metha, and probably their children - Edith, Charles, Dorothy and Earl - resided here for about 13 years, even though the property stayed in the Umbach family until February of 1959.

Another long-time resident of the property was Arthur W. Lynch. He and his wife, Mildred, moved into the house around 1970. Mr. Lynch was a grinder at Tube Turns in Louisville. Arthur died in June of 1987 and Mildred continued residency here until the mid 1990s.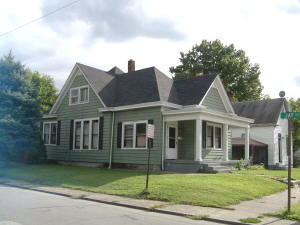 Contact:
To be sold at Sheriff's Sale Tuesday, 31 October 2006 at 10:00 AM in the Office of the Sheriff of Floyd County (first floor of the City-County Building, 311 Hauss Square, New Albany).