S. Otto Rady House
1825 East Oak Street
New Albany, IN 47150

Sheriff Sale

Built 1909. American Four-square. The S. Otto Rady House. Otto had this home built in 1909 and was first listed in the New Albany City Directory of 1910-11. Mr. Rady was an assistant cashier at the Second National Bank in New Albany. He died in 1914 and his widow, Pearl, continued to live in the home through 1958. The house saw several owners during the 1960s and by 1970, the house had been divided into three to four apartments.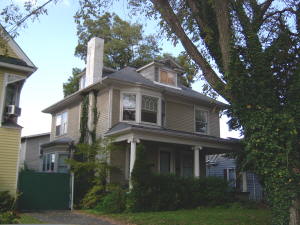 Contact:
To be sold at Sheriff's Sale Tuesday, 14 November 2006 at 10:00 AM in the Office of the Sheriff of Floyd County (first floor of the City-County Building, 311 Hauss Square, New Albany). NO THIRD PARTY BUYER AT SHERIFF'S SALE - MAY BE MARKETED BY A REAL ESTATE COMPANY IN UPCOMING WEEKS.