Charles E. Richards House
844 Cedar Bough Place
New Albany, IN 47150

Sheriff Sale

Built 1906. Queen Anne. The Charles E. Richards House. This National Register eligible street is one of the few private streets within the City of New Albany. At the time of its development by the Huncilman family in the 1890's and early 1900s, "living on the bough" was considered to be a very prestigious address, as it still is today. Today, Cedar Bough Place is a locally designated historic district; therefore, any exterior alterations to the houses on this street must be reviewed and approved by the City's Historic Preservation Commission.

In May of 1906, Chas. E. Richards purchased lot #2 on the Cedar Bough Plat from Samuel G. Huncilman & his wife and immediately had this house built.
At the time of publication of the 1907 New Albany City Directory, Mr. Richards was listed as principal of the East 4th Street School in New Albany. He later taught at New Albany High School when it was located in the 500 block of East Spring Street. Charles died in March of 1925 and his widow, Henrietta, remained in the home until the early 1930s.

The Bernard O. Umbach family resided in the house during the 1930s. During the 1940s, a number of different occupants were listed as living here.
As early as 1949, Roy Becker and his family were living here. Mr. Becker was paymaster for the Colonial Supply Co. It was during this time that the house became divided into two apartments. The house has since been restored to its original single-family configuration.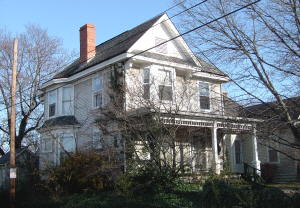 Contact:
To be sold at Sheriff's Sale Thursday, 11 January 2007 at 10:00 AM in the Office of the Sheriff of Floyd County (first floor of the City-County Building, 311 Hauss Square, New Albany). NO THIRD PARTY BUYER AT SHERIFF'S SALE - MAY BE MARKETED BY A REAL ESTATE COMPANY IN UPCOMING WEEKS.