Bliss-Knobloch House
507 East Elm Street
New Albany, IN 47150

Sheriff Sale

Built 1868. Shotgun. The Bliss-Knobloch House. Michael Sohn purchased this lot from William Munster and his wife in August of 1868 for $800.00 and had this house built immediately. He sold the new house to C. H. and Mary Bliss in April of 1869 for $1060.00. Mr. Bliss's occupation was listed in the 1871 New Albany City Directory as a merchant.
The Bliss family only lived here just over two years and then sold the home William and Gertrude Jackson, Jr. in August 1871 for $1800.00. Mr. Jackson was a salesman for the dry goods firm of Wm. S. Culbertson & Son. In later years he became the City Clerk for New Albany.

Louis Knobloch, a partner in the Knobloch & Steinhauer Barber Shop - located at 206 Pearl Street in downtown New Albany - purchased the house in December 1878. Mr. Knobloch died in August of 1901 and his widow, Catherine (Kate) lived hear through the early 1920s.

After that time, the house has seen several owners and numerous tenants.
For almost 20 years between the mid 1940s through the mid 1960s, the George L. Reich family lived here. Mr. Reich's occupation was listed in the New Albany City Directory as a meat cutter.

Judgment number: 22D01-0608-MF-289. This number can be taken to the Clerk's Office in the City/County Building and entered into their computers to find out the judgement amount owed on the property. This information is public record.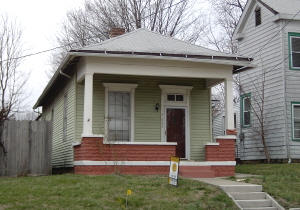 Contact:

To be sold at Sheriff's Sale Thursday, 22 February 2007 at 10:00 AM in the Office of the Sheriff of Floyd County (first floor of the City-County Building, 311 Hauss Square, New Albany). Judgment number: 22D01-0608-MF-289 NO THIRD PARTY BUYER AT SHERIFF'S SALE - MAY BE MARKETED BY A REAL ESTATE COMPANY IN UPCOMING WEEKS.