Mary F. Black House
1909 Culbertson Avenue
New Albany, IN 47150

Sheriff Sale

Built 1920. Gable-front/Craftsman. The Mary F. Black House. This new house was purchased by Mary F. Black, widow of Wm. T., in February of 1920. The house was built by noted contractor, Thomas M. McCulloch.

In January of 1925, Gustav VonAllmen purchased the home and owned the property for fourteen years, but only resided in it for the first five years and rented it out for the remainder of the time to Chester C. Crumbo and his wife Edna. Mr. VonAllmen owned a transfer company in New Albany.

Other owners of the property over the next 20 years included: Onie Erdman, L. Arvel and Leona Waggoner and Ray and Ada Funk. In the last 50 years, there have been numerous owners and occupants of the house.
The property's judgment number is 22C01-0608-MF-531. With this number you can visit the Clerk's Office in the City-County building and enter it into their computers to find the judgment owed on the property. This is public record.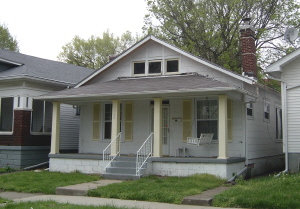 Contact:
To be sold at Sheriff's Sale Thursday, 10 May 2007 at 10:00 AM in the Office of the Sheriff of Floyd County (first floor of the City-County Building, 311 Hauss Square, New Albany). Judgment number: 22C01-0608-MF-531 NO THIRD PARTY BUYER AT SHERIFF'S SALE - MAY BE MARKETED BY A REAL ESTATE COMPANY IN UPCOMING WEEKS.