Jasper & Roxa Yost House
323 Woodrow Avenue
New Albany, IN 47150

Sheriff Sale

Built c.1926. Dormer-front bungalow. The Jasper & Roxa Yost House. This new house was purchased by Jasper and Roxa Yost about 1927 in an area that was platted in 1908 and developed by The McCulloch Land and Improvement Co. Mr. Yost was a buyer for the Wood Mosaic Co., located at East 18th and Main Streets in New Albany. This company supplied decorative wood flooring all over the county, including the White House in Washington, DC. Jasper died in the mid-1930s and Mrs. Yost, a native of Pennsylvania, remained in the house and died there in July of 1954.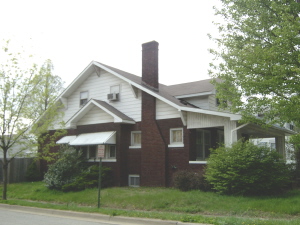 Charles L. Zoeller purchased the home in July of 1954 from the Yost estate for $11,000.00. He and his wife Martha S. lived here until about 1960. Mr. Zoeller worked as a clerk for the L & N Railroad.

The house then became home to the Mr. and Mrs. Elbert H. Beswick family. Mr. Beswick's occupation was listed as a car inspector. The Beswick's resided here until the late 1970s.

By 1979, Charles and Faye Leininger were residing in the home and remained through the mid 1990s. Mr. Leininger was a maintenance supervisor for Public Service Indiana.
The property's judgment number is 22C01-0512-MF-801 and the judgment amount to be satisfied is $148,408.06. This is public record.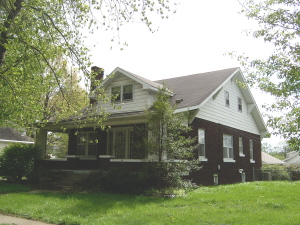 Contact:
To be sold at Sheriff's Sale Thursday, 10 May 2007 at 10:00 AM in the Office of the Sheriff of Floyd County (first floor of the City-County Building, 311 Hauss Square, New Albany). Judgment number: 22C01-0512-MF-801 NO THIRD PARTY BUYER AT SHERIFF'S SALE - MAY BE MARKETED BY A REAL ESTATE COMPANY IN UPCOMING WEEKS.