Elkins-Ashton House
2323 McLean Avenue
New Albany, IN 47150

Sheriff Sale

Built 1927. California Bungalow. The Elkins-Ashton House. Walts and Addie Elkins purchased these two lots in early 1919 but did not have the house constructed until 1927. The Elkins had previously lived on the south side of McLean Avenue in the middle of the 2300 block. Walts was employed as a guard at the Quartermaster Depot in Jeffersonville. Mr. Elkins died about 1950 and his widow remained in the house until 1951.

Herman Ashton and his wife Marjorie purchased the home in 1951 and remained until 1978. Mr. Ashton was a foreman for L.G. & E. Joseph and Evelyn Shelton were the next owners of the property, living here in 1979 and remaining through 1991. Joseph worked for the Ford Motor Co. in Louisville.
The house has seen numerous occupants over the last 15 years.

The property's judgment number is 22C01-0701-MF-00028. With this number you can visit the Clerk's Office in the City-County building and enter it into their computers to find the judgment owed on the property. This is public record.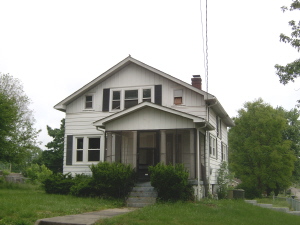 Contact:
To be sold at Sheriff's Sale Tuesday, 12 June 2007 at 10:00 AM in the Office of the Sheriff of Floyd County (first floor of the City-County Building, 311 Hauss Square, New Albany). Judgment number: 22C01-0701-MF-00028