Philip Goodyear House
602 Maple Lane
New Albany, IN 47150

Sheriff Sale

Built c.1930. Bungalow. One of the earliest and most prestigious suburbs of New Albany was - and still is - the National Register eligible Silver Hills. When the New Albany Highland Railroad Co. began providing streetcar service to Silver Hills in 1890, it greatly increased the "hill's" popularity. The Tuley family owned the land for many years. They eventually sold off different parcels to developers who in turn platted it and sold the lots.

This lot was purchased from Stella Paul. Mrs. Paul was the wife of Jesse J. Paul, president of the New Albany Business College. This tract of land was owned by the business college and was platted in November of 1924 and lots were sold. The street name at that time was Kentucky Avenue. It was changed to Maple Lane sometime around 1960.
The property's judgment number is 22C01-0612-MF-812. With this number you can visit the Clerk's Office in the City-County building and enter it into their computers to find the judgment owed on the property. This is public record.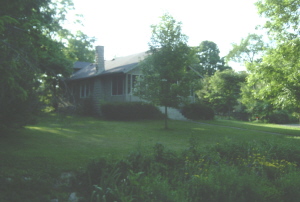 Contact:
To be sold at Sheriff's Sale Tuesday, 12 June 2007 at 10:00 AM in the Office of the Sheriff of Floyd County (first floor of the City-County Building, 311 Hauss Square, New Albany). Judgment number: 22C01-0612-MF-812