Schmitt-Tyler House
346 East 15th Street
New Albany, IN 47150

Sheriff Sale

Built ca.1900. Shotgun. The Schmitt-Tyler House. This lot was purchased in October 1867 by George Trinler from Robert H. Barr, who had originally platted this property in 1851. Mr. Trinler sold the property to his son, George Jr., in October of 1898 and the house was constructed soon thereafter. The property was used for investment purposes for almost 50 years by Mr. Trinler and later by Harry Trinkle, with numerous occupants living here over that period of time.
In August 1948, the property was sold to Arthur W. Schmitt and his wife Frances. Mr. Schmitt was an employee of Breece Veneer & Panel Co. located at East 13th and Water Streets in New Albany.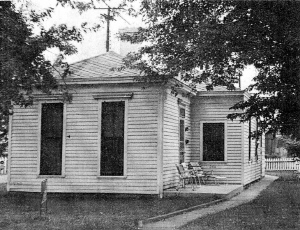 By 1953, the New Albany City Directory lists a Mrs. Frances Tyler as residing here, and she remained through the mid 1970s. Frances was a waitress at the popular Crystal Swan Restaurant located in the historic New Albany Inn in downtown New Albany. The image above dates from Mrs. Tyler's residency (1971) and shows the house before a porch overhang and artificial siding were added.
The property's judgment number is 22C01-0612-MF-780. With this number you can visit the Clerk's Office in the City-County building and enter it into their computers to find the judgment owed on the property. This is public record.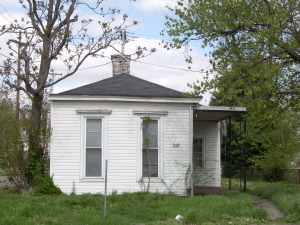 Contact:
To be sold at Sheriff's Sale Thursday, 20 September 2007 at 10:00 AM in the Office of the Sheriff of Floyd County (first floor of the City-County Building, 311 Hauss Square, New Albany). Judgment number: 22C01-0612-MF-780