Fannie Blake House
2225 Willard Avenue
New Albany, IN 47150

Sheriff Sale

Built ca 1932. California bungalow/shotgun. Fannie Blake House. This area of New Albany was once a separate town, which incorporated in 1886 and was known as Silver Grove. The boundaries were roughly Silver Street to the west, Charlestown Road to the north, Beharrell Avenue to the east and Spring Street to the south. The town had its own town hall with town council along with is own police and fire departments. Silver Grove became part of New Albany in 1915.
This house was originally built for investment purposes and saw numerous tenants up until WWII. In the early 1940s Mrs. Fannie Blake, widow of Charles, located here and remained until her death in August 1961 at age 81. Fannie was an employee in the cafeteria at New Albany High School.
Robert L. Bostock and his wife Helen were the next residents of the home, living here through the mid 1960s. The house again saw several different residents through the early 1970s until George and Margaret Maymon took up residency here.

In the mid 1970s, Mr. Maymon, a retired elementary educator at Mt. Tabor School, passed away and Margaret remained in the house until the mid 1980s. Mrs. Maymon worked in the office of a local Paint and wallpaper store.

Denise Scott, the next resident of the home, was a bookkeeper at the New Albany Ace hardware on Charlestown Road. She lived in the house until around 2000.
The property's judgment number is 22C01-0705-MF-307. With this number you can visit the Clerk's Office in the City-County building and enter it into their computers to find the judgment owed on the property. This is public record.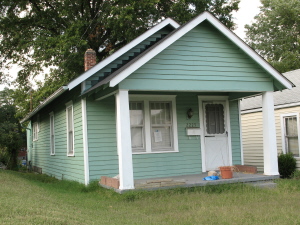 Contact:
To be sold at Sheriff's Sale Thursday, 18 October 2007 at 10:00 AM in the Office of the Sheriff of Floyd County (first floor of the City-County Building, 311 Hauss Square, New Albany). Judgment number: 22C01-0705-MF-307