William E. Rogers House
2206 Reno Avenue
New Albany, IN 47150

Sheriff Sale

Built c. 1924. Dormer-front Bungalow. The William E. Rogers House. About 1924, William and Pearl A. Rogers purchased this new house in an area of New Albany that had been platted in June 1916 by the McCulloch Land and Improvement Company. Reno Avenue derives its name from the notorious Reno Brothers, who committed the first train robbery in America just east of Seymour, Indiana. Sometime later, the brothers were apprehended and brought to the Floyd County Jail in New Albany for safe keeping. While prisoners in the local jail, a group of vigilantes from Seymour, the brothers' hometown, broke into the jail and hung the entire gang.
Mr. Rogers was manager of the Liberty Loan Company. The Rogers family did not return to the house after the Great Flood of 1937, when the whole area was under as much 30 feet of water.

By the time of the printing of the 1939 New Albany City Directory, the house was home to two families: Herman and Edith Oleslager and their daughter and son-in-law, Juanita and Lyle McSpaddin. Mr. Oleslager was a switchman for the Southern Railway System and Mr. and Mrs. McSpaddin were proprietors of the Stop & Shop Market at 308 East Market Street in downtown New Albany. Juanita would eventually become a New Albany realtor and broker. Mr. and Mrs. Oleslager remained in the house until their deaths in March 1954 and October 1968 respectively. Mrs. McSpaddin continued residency until she sold the property in June 1975. The photo below - which shows the house much as it today - is from the 1975 real estate listing.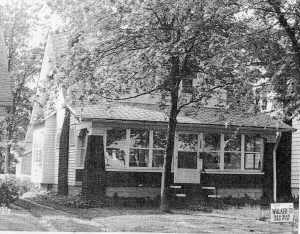 The property's judgment number is 22C01-0708-MF-526. With this number you can visit the Clerk's Office in the City-County building and enter it into their computers to find the judgment owed on the property. This is public record.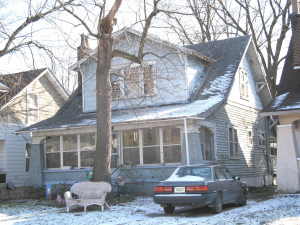 Contact:
To be sold at Sheriff's Sale Wednesday, 9 January 2008 at 10:00 AM in the Office of the Sheriff of Floyd County (first floor of the City-County Building, 311 Hauss Square, New Albany). Judgment number: 22C01-0708-MF-526. NO THIRD PARTY BUYER AT SHERIFF'S SALE - MAY BE MARKETED BY A REAL ESTATE COMPANY IN UPCOMING WEEKS.