Teives-Lori House
1122 Beeler Street
New Albany, IN 47150

Sheriff Sale

Built c. 1895. Gabled ell. The Teives-Lori House. Built around 1895, the early owners and occupants of this structure are unknown and it appears the property might have even been in foreclosure for a time. But by 1903, Mrs. Flora V. Yates was making her home here along with her dress shop. Mrs. Yates apparently rented the property before purchasing it in August 1911.

After Flora's residency, several other tenants occupied the structure until August 1925, at which time Charles and Tillie Teives took ownership of the property. The Teives remained through the mid 1940s until a tragic automobile accident took Charles's life in November 1943. At the time of his death, Mr. Teives was a switchman for the Southern Railway System and was secretary-treasure of the Brotherhood of Railroad Trainman for the Southern.

Over the next twenty years there were numerous occupants of the home until the mid 1960s, when Frank H. Lori took ownership of the property. This would begin a residency that would last for over 35 years. Mr. Lori was an employee of Jeffboat and retired from the company after 45 years of service. Frank died in February 2002.
The property's judgment number is 22C01-0708-MF-595. With this number you can visit the Clerk's Office in the City-County building and enter it into their computers to find the judgment owed on the property. This is public record.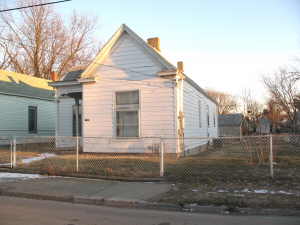 Contact:
To be sold at Sheriff's Sale Tuesday, 12 February 2008 at 10:00 AM in the Office of the Sheriff of Floyd County (first floor of the City-County Building, 311 Hauss Square, New Albany). Judgment number: 22C01-0708-MF-595.