Briggs-Ridley-Chase House
2211 East Spring Street
New Albany, IN 47150

Sheriff Sale

Built c. 1915. California Bungalow. The Briggs-Ridley-Chase House. Edward P. Briggs purchased this lot in August 1913 for $535 from developer Thomas M. McCulloch; however, the house was not built until about 1915. Mr. Briggs was a repairman for the United Gas & Electric Company.
In February, 1922 the home was sold to James Ridley, an employee of the K&I Railroad Co. The Ridleys lived here for almost twenty years before selling the property in December 1941.

By February 1946, popular photographer, Horace J. Chase purchased the house and lived here through the mid 1960s. Mr. Chase had his photography studio in downtown New Albany for sixty years. He was a life member of the Professional Photographers of America and also a member and past president of the following: Professional Photographers of Indiana, Daguerre Club of Indiana and the American Society of Photographers.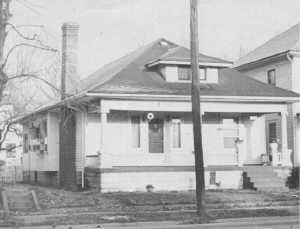 The photo above shows the home as it appeared circa 1971. The home then saw several different residents before Allen and Lottie Hollopeter located here in the late 1970s. Mr. Hollopeter was an auto mechanic by trade and was employed by several New Albany car dealerships including Craig Ford and Dan Sillings Buick. Before retiring, he was proprietor of his own mechanic shop, Allen Automotive.

Mrs. Hollopeter was a former employee of the New Albany Box & Basket Company. She died at the age of 47 in October 1990 and Allen moved from the house in the mid 1990s.
The property's judgment number is 22D01-0712-MF-537. With this number you can visit the Clerk's Office in the City-County building and enter it into their computers to find the judgment owed on the property. This is public record.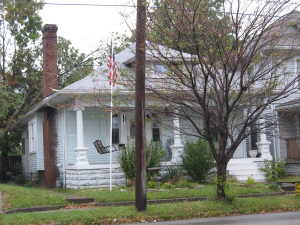 Contact:
To be sold at Sheriff's Sale Tuesday, 21 October 2008 at 10:00 AM in the Office of the Sheriff of Floyd County (first floor of the City-County Building, 311 Hauss Square, New Albany). Judgment number: 22D01-0712-MF-537.