James M. Seabrook House
1318 East Market Street
New Albany, IN 47150

Sheriff Sale

Built 1882. Gabled-front. James M. Seabrook House. This new house was purchased by William and Izella Sanderson in July 1882. That year's New Albany City Directory lists Mr. Sanderson's occupation as being a clerk. Eight years later, in February 1890, James Seabrook and his wife Lillie purchased the home for $2750. Mr. Seabrook was the grandson of Daniel Seabrook, a New Albany pioneer who came to New Albany in 1813, shortly after the Scribner brothers founded the town.
James was a railroad employee, first working for the Illinois Central and later as depot master with the L&N Railroad, from which he retired in 1932. Mr. & Mrs. Seabrook were members of Wesley Chapel Methodist Church, where James was secretary of the Sunday school department for more than sixty years and Lillie was member of the musical organization known as the Treble Clef Club.
Mrs. Seabrook died in August 1915 at the age of 54 years and James continued his residency here until his death in 1945 at age 91. At the time of his death, his sister, Miss Mary Elizabeth Seabrook, was residing with him. By the time of the death of Mary Elizabeth in March 1948, the home was no longer occupied by the Seabrook family.
The James M. Seabrook House is located in the locally-designated East Spring Street Historic District; therefore, any exterior changes must be reviewed and approved by the City's Historic Preservation Commission. For more information about the Preservation Commission, and a copy of the design guidelines for work in the historic district, visit www.newalbanypreservation.com.
The property's judgment number is 22C01-0708-MF-526. With this number you can visit the Clerk's Office in the City-County building and enter it into their computers to find the judgment owed on the property. This is public record.
The photo below shows the house as it looked in 1974.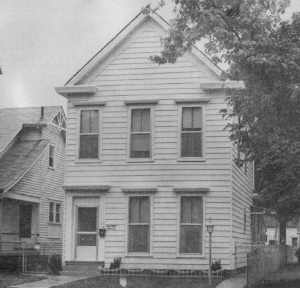 Contact:
To be sold at Sheriff's Sale Tuesday, 11 November 2008 at 10:00 AM in the Office of the Sheriff of Floyd County (first floor of the City-County Building, 311 Hauss Square, New Albany). Judgment number: 22C01-0708-MF-526.