Have it all – architectural character, a desirable location and a fascinating history! This beautifully-detailed Queen Anne home retains many original features, is located in one of New Albany's oldest and most prestigious suburbs, and has a unique connection to a notorious episode in the City's past. The development of Silver Hills, located overlooking the city, was facilitated when the New Albany Highland Railroad Company began providing streetcar service to Silver Hills in 1890. The Tuley family, who had owned the land for many years, sold off different parcels to developers, who in turn platted it and sold lots. The Silver Hills Land Company platted the tract of land that included Ridgeway Avenue in 1891. Five houses were initially built on the avenue, this home being one of them. The neighborhood has been identified as being potentially eligible for listing in the National Register of Historic Places.
Ira G. Strunk purchased three lots for $1950 in July 1897 and had this Queen Anne style home built about five years later. Professor Strunk had begun his local teaching career in 1872 at the New Albany Business College, an institution that educated many successful business people in the region and remained in the community for over a century. Within two years, Prof. Strunk and a business partner had purchased the Business College.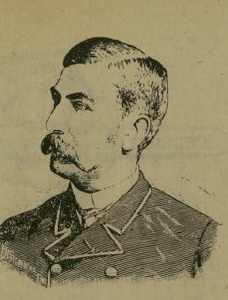 Ira was also a bit of a folk hero: in 1885, Strunk, who was happily married to the daughter of a successful New Albany grocer, found that his wife had become romantically involved with Charles Hoover. Mr. Hoover was the music director of St. Paul's Episcopal Church, where Myra Strunk served as the church's organist. After the discovery of his wife's illicit affair, Ira confronted Mr. Hoover on a downtown New Albany street in July 1886. Before anyone knew what had happened; Ira had gunned down Charles in front of the Windsor Hotel at the corner of Bank and Market streets. The trial brought national attention to the community and after eight days at trial and ninety-five witnesses, the jury returned a verdict of 'not guilty' within fifteen minutes! The day after the verdict another jury ruled him sane, and Ira was released, a free man. (To read more about this scandalous episode, visit http://ourhistorynewalbany.blogspot.com/2005/11/desperate-housewives-1886-style.html.) After only a few years of residency in his new home, Ira moved to California but continued ownership of the property and used it as investment purposes. He returned to New Albany in 1911 but did not move back to Ridgeway Avenue.

In April 1920 the house was sold to Ora A. Rowe, owner and salesman for Rowe-Fawcett Co., a New Albany wholesale grocery establishment. The Rowes remained in the home until September 1929.

Over the next years the house saw several different owners, stood vacant, and was foreclosed upon, until Raymond and Helen Stoy purchased the home in January 1937. The Stoys actually rented the house two years prior to their purchase, and lived here for a total of more than a quarter of a century. In his early years, Mr. Stoy was vice president of E. V. Knight's New Albany Veneer Company, located at East 13th and McBeth Streets. He would later retire as vice president and general manager from the old Louisville Veneer Mills. The Stoys remained 'on the hill' even after selling this home in February 1961: they relocated to 1247 Main Street Hill Road and lived out the remainder of their lives there.

Robert and Barbara Gray purchased the house from the Stoys and remained until the early 1970s, when it was purchased by Dr. and Mrs. Richard Brengle. Dr. Brengle was a professor of English at Indiana University Southeast for many years, including the school's early existence in downtown Jeffersonville. Dr. Brengle's son and daughter-in-law, John and Nancy Miller-Brengle, took possession of the property in 1984 and have remained until the present time.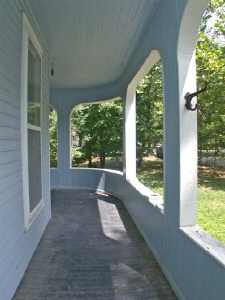 The Strunk-Stoy-Brengle House has over 2300 square feet, including four bedrooms and one and a half bathrooms. The exterior is largely unchanged and retains many characteristic elements of the Queen Anne style, including a tower with a conical roof and a rounded partial wrap-around porch. A screened porch runs across the rear of the house and includes turned posts and a spindlework frieze.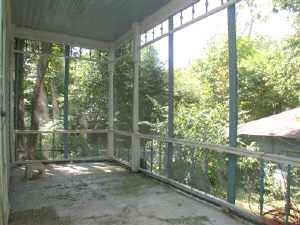 The house – which has been recently painted – is primarily clad in beaded horizontal ("novelty") siding, but also features fishscale, round and square shingles, and stick work.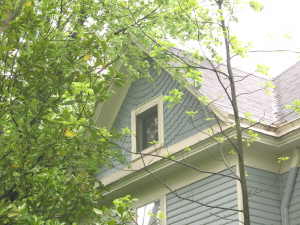 It also retains its original one-over-one wooden windows.
The massive, original, single-light front door opens into a roomy vestibule/parlor. Hardwood flooring laid on the diagonal is found here and throughout much of the first floor, and the room also displays the original woodwork with bullseye corner blocks found throughout the first floor. Original four-panel doors with Eastlake hardware also remain.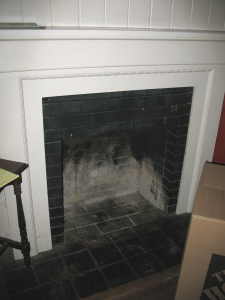 The focal point of the room is a corner fireplace with a wooden mantelpiece with a shallow mantel shelf and a rope detail circling the fire box. A double opening that may have originally contained pocket doors leads to a very spacious living room.
The room is illuminated by multiple windows, including a four-light clerestory window, most of which include wooden interior shutters at the lower sash.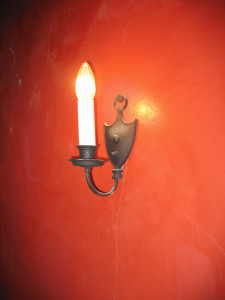 Another double opening leads to the dining room, which has the same hardwood flooring and interior shutters, and also includes wainscoting and period sconces.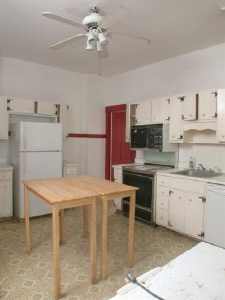 The adjacent kitchen includes vintage cabinetry and a large pantry and laundry area. A mud room leads to the back porch and a half bathroom adjoins.

An enclosed staircase leads from the parlor to the second floor. This level also includes hardwood flooring, and most of the rooms have interior shutters.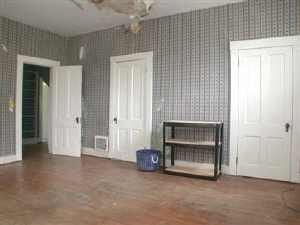 The spacious master bedroom, located at the rear of the house, includes a pair of closets. Two other bedrooms each include a large closet and lots of natural light. The fourth bedroom – perfect for a nursery or a home office – is smaller and does not include a closet.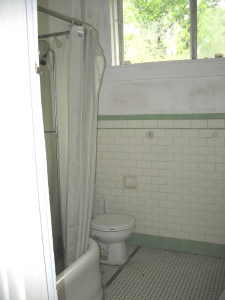 A good-sized bathroom is also located on this level, and retains vintage elements such as a basketweave tile floor.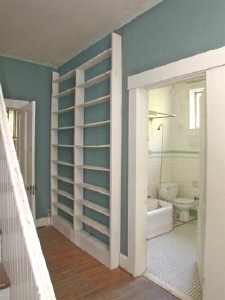 The wide hallway includes a staircase that leads to the third floor. The tower houses a small room finished with beadboard walls, which even includes a curved door. A second room on this level is also finished and would make an ideal reading room. It features interesting ceiling angles and lots of natural light. One large room on the third floor is currently unfinished and used for storage, but offers a soaring ceiling and limitless possibilities. Additional storage space is found in the full basement, which includes an exterior door.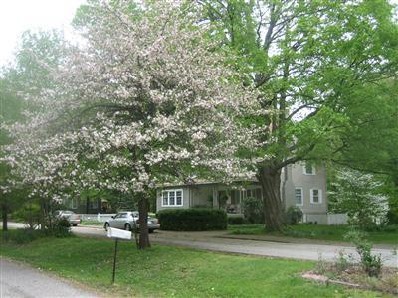 Ridgeway Avenue is a quiet, dead-end street with a wide esplanade. The triple lot on which the house sits features mature landscaping and many large trees, and the fenced back yard includes a gazebo. A driveway in the side yard offers two off-street parking spaces, while a period single-car detached garage is located behind the house, adjacent to the alley. This home needs some TLC but has great potential.
The property's judgment number is 22C01-0902-MF-316. With this number you can visit the Clerks Office in the City/County building and enter it into their computers to find the judgment owed on the property. This is public record.