Rahner-Pfeifer House
343 East 15th Street
New Albany, IN 47150

Sheriff Sale

Built 1885. Queen Anne. The Rahner-Pfeifer House. Henry W. Rahner, an engineer, had purchased this property by 1884 and had his house built shortly thereafter. The first listing at this address in the New Albany City Directory for Henry Rahner was in 1886.

In 1915, the house was sold to the Henry Pfeifer family. Mr. Pfeifer was a fireman for the New Albany Fire Department. After the death of Henry in the late 1950s, his widow Cora remained in the home until her death in the early 1960s. The house was sold in 1964 the Thomas Koerner family.

The house is located in the locally designated East Spring Street Historic District. Any exterior alterations must be reviewed and approved the New Albany Historic Preservation Commission.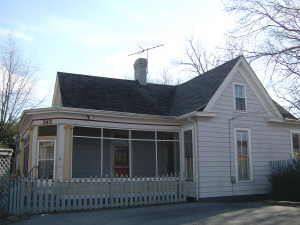 Contact:
To be sold at sheriff's sale on Tuesday, 28 February 2006, at 10:00 AM at the office of the Floyd County Sheriff. NO THIRD PARTY BUYER AT SHERIFF'S SALE - MAY BE MARKETED BY A REAL ESTATE COMPANY IN UPCOMING WEEKS.