Emery-Weidman House
1501 Shelby Place
New Albany, IN 47150

Sheriff Sale

The land that later became the Shelby Place neighborhood served as a lumber and pipe storage yard at the beginning of the twentieth century, but was platted for development in May 1906 by George W.
Seibert
. The neighborhood was designed with thirty-four lots, including six lots facing
Vincennes
Street. The majority of houses on the street were constructed on the street between 1911 and 1916, with 1912 and 1913 as particularly busy years. The neighborhood also features a central median, or esplanade. The central grassy and tree-lined bands – an outgrowth of the 'City Beautiful' movement at the turn of the century – added a bucolic touch to urban neighborhoods and were an attractive incentive to residential development. The Shelby Place Historic District was listed in the National Register of Historic Places in 2008.
The original owner of the home at 1501 Shelby Place was John E. Emery, a carpenter for local contracting firm Stephen Day and Sons. The Day lumber yard was located just west of this home, and the firm was responsible for the construction of several of the homes on Shelby Place. Emery owned the property until 1937. It then became the home of Roy L.
Weidman
, an inspector for the
Breece
Veneer and Panel Company, into the
1940s
.
This late Queen Anne cottage features a hipped, asphalt shingle roof with a large offset projecting gabled bay on the main
façade
. The house has two interior brick chimneys, a foundation of rock-faced concrete block, and an exterior clad in aluminum siding. On the south and west elevations is a wrap-around front porch with slightly tapered wood columns on a solid rock-faced block railing. Two entrances lead to the porch, both with original single-light glass and wood doors. Windows in the dwelling are original one-over-one wood sash.
Property will be sold at Sheriff's Sale Thursday, 28 May 2015 at 10:
00am
at the 1
st
floor of the City-County Building, 311 West 1
st
Street.
The property's judgment number is 22D01-1407-MF-1133
. With this number you can visit the Clerk's Office in the City-County building and enter it into their computers to find the judgment owed on the property. This is public record.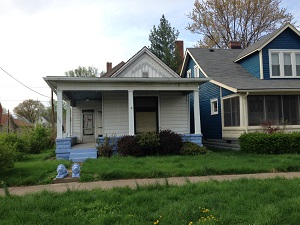 Contact:
To be sold at Sheriff's Sale Thursday, 28 May 2015 at 10:00 AM in the Office of the Sheriff of Floyd County (first floor of the City-County Building, 311

Hauss

Square, New Albany). Judgment number:

22DO1-1407-MF

-1133.