Beck-Shipman-Egnew House
327 East 14th Street
New Albany, IN 47150

Sheriff Sale

This early shotgun house appears to have built around 1872 for Charles R. Beck, a partner in the G. W. Beck & Son edge tool manufacturing company. Lucinda E. Shipman, widow of John L., was the next owner of the house, purchasing it from the Becks in 1880.
By 1904, Frank and Mary Ralston were the next occupants of the home and lived there about five years, but continued ownership of the property until Frank C. Egnew and his wife Anna purchased the home in 1920. Egnew was a retired barber. Anna passed in April 1969 and Frank remained in the home until 1976, ending over 55 years of occupancy by the Egnew family.
The home is located within the locally-designated East Spring Street Historic District; therefore, any exterior alterations must be reviewed and approved by the city's Historic Preservation Commission. For more information about the Commission, and a copy of the design guidelines for work in the city's historic districts, please visit
www.newalbanypreservation.com
. The house is also listed in the National Register of Historic Places as a contributing part of the East Spring Street Historic District. This listing would qualify the owner to take advantage of tax credits to help recoup a portion of qualified rehabilitation costs. More information is available at
https://www.in.gov/dnr/historic/3679.htm
.
The property's judgment number is 22DO3-1912-MF-001961
. With this number you can visit the Clerk's Office in the City-County building and enter it into their computers to find the judgment owed on the property. This is public record.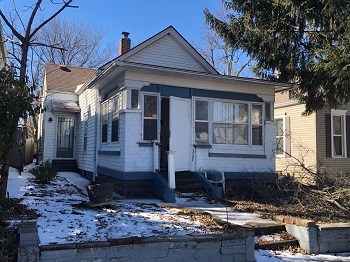 Contact:
To be sold at Sheriff's Sale Thursday, 21 October 2021 at 10:00 AM on the third floor of the City-County Building (311 Hauss Square, New Albany). Judgment number: 22DO3-1912-MF-001961.