Charles L. Vernia House
1942 Culbertson Avenue
New Albany, IN 47150

Sheriff Sale

Built c.1920. Gabled-front/Craftsman. The Charles L. Vernia House. Charles L. Vernia purchased this lot from the estate of Kate Vernia in November of 1918 and had this house built. Mr. Vernia was secretary of the John Vernia & Son Marble Co.

By the late 1920s, and over a period of thirty years, numerous residents began occupying the home, including the Harry L. Schulz family. Mr. Schulz was proprietor, along with Paul B. Schulz, of the Schulz Coal Co. The Schulz's resided here for only about 6 years in the 1930s.

Mr. and Mrs. James T. Ridley occupied the house in the early 1940s and Carrie, James's widow, remained in the home through the late 1940s.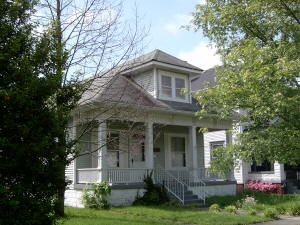 Contact:
To be sold at Sheriff's Sale Thursday, 8 June 2006 at 10:00 AM in the Office of the Sheriff of Floyd County (first floor of the City-County Building, 311 Hauss Square, New Albany). NO THIRD PARTY BUYER AT SHERIFF'S SALE - MAY BE MARKETED BY A REAL ESTATE COMPANY IN UPCOMING WEEKS.